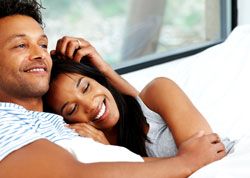 Most men with erectile dysfunction take tablets known medically as PDE5 inhibitors. These include Viagra/sildenafil, Cialis/tadalafil, or Levitra/vardenafil. However there are some less familiar treatments, including some less well known PDE5 inhibitors tablets and a medicine known as alprostadil. Alprostadil comes as cream, insertable pellet or injection and works directly on the penis.
Alternative tablets
Nipatra, Levitra orodispersible and Spedra are all alternative PDE5 tablets.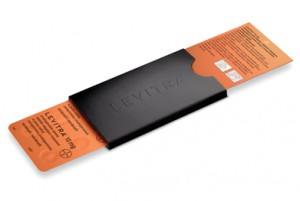 Levitra orodispersible
Levitra orodispersible is simply a dissolvable form of Levitra tablets (vardenafil) which 'melts in mouth'. The dispersible form was developed to have a quick onset of action. Like ordinary Levitra tablets, Levitra orodispersible remains active for about 4-5 hours. Levitra orodispersible is available in two strengths, 10mg and 20mg. In practice, most men prefer ordinary Levitra tablets, perhaps because they cost less. It may also be more convenient and less obtrusive to swallow a tablet than have it melt in the mouth.
Nipatra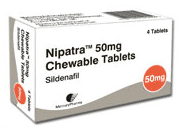 Nipatra is a chewable form of sildenafil. Sildenafil is the medical name for the active ingredient in Viagra tablets. Nipatra, sildenafil and Viagra have the same active ingredient and are medically the same. Nipatra is chewed before it is swallowed. It may start to work slightly more quickly than an ordinary sildenafil or Viagra tablet, which usually start to work after about 30 minutes. Nipatra is relatively expensive when compared with sildenafil, although not more expensive than Viagra. Demand for Nipatra appears to be low, perhaps because it does not work much more quickly than the alternatives and most men have no difficulty swallowing a small tablet whole.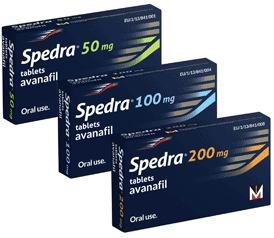 Spedra
Spedra is the brand name of a newly developed PDE5 inhibitor (available from Dr Fox). The active ingredient of Spedra is avanafil. Like other PDE5 inhibitors Spedra/avanafil offects blood flow to the penis during sexual stimulation and enhances erections. In many ways Spedra is similar to Viagra/sildenafil. They both work for about 4 to 6 hours. Spedra is said to start to work quickly, possibly as soon as 20 minutes after swallowing a tablet. Demand for Spedra at the moment is limited. It is a new medicine and more expensive than sildenafil or tadalafil tablets, which are most men's preferred PDE5 inhibitor treatments.
Alprostadil (Vitaros, MUSE, Caverject)
MUSE, Caverject, and Vitaros are brands of alprostadil. Alprostadil treatment acts directly on the penis as a cream, penile insertion, or injection. It alters the pattern of blood flow in the penis during arousal and improves erections. It can be effective in some situations where tablet treatments do not work, or where tablet side effects prevent their use.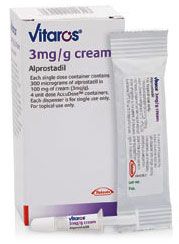 Vitaros
Vitaros cream is the latest form of alprostadil to be licenced for use in the UK. Vitaros comes in single dose pre-filled applicators (4 applications per box). Each applicator contains a few drops of cream which are dropped directly onto the head of the penis. The penis is held upwards with the meatus (opening through which urine exits) pinched apart. After 30 seconds some of the cream works down into the urethra (tube through which urine passes) where it is locally active. There are very few side effects, as little of the active ingredients get into the general circulation. Vitaros is likely to be preferred by men who wish to avoid injecting alprostadil or inserting it as a pellet.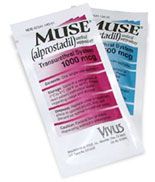 MUSE
MUSE is alprostadil in the form of a tiny pellet (smaller than a grain of rice). MUSE comes with a single dose applicator used to insert the small pellet into the urethra. MUSE works in the same way as Vitaros, by local contact with the mucosa (skin) of the urethra. Information on How to use MUSE from MEDA Pharmaceuticals.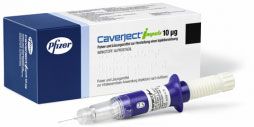 Caverject
Caverject is injectable alprostadil. The injection is into the base of the penis, and takes some skill and control to use. Information on How to use Caverject from Pfizer Pharmaceuticals.
Alprostadil cautions
Alprostadil has not been fully studied for effects on conception and pregnancy. When MUSE or Vitaros cream is used, a small amount of alprostadil is likely to pass into the sperm during ejaculation. Condoms should be used during intercourse with fertile partners. Condoms should also be used, if a partner is already pregnant or breast feeding. The level of risk is not known. Alprostadil can cause local irritation to the penis, and areas of sexual contact in partners.
Priapism
Alprostadil, and indeed all treatments for erectile dysfunction including tablets, have the potential to cause priapism. Priapism is an erection sustained for 4 hours or more. It is usually painful and is potentially damaging to the penis. Symptoms are a medical emergency. Urgent medical treatment is required to prevent permanent harm. Combinations of erectile dysfunction treatments, such a PDE5 tablets with alprostadil, should be avoided unless they are used together on the advice of a specialist. Priapism is a greater in men who have a predisposition, most notably in men with sickle cell disease.
Other treatments
All men with erectile dysfunction, which is a common condition, should talk to their doctors about it. Not only will doctors want to take a full history and carry out examinations and possibly tests, doctors may be able to arrange counselling. Counselling may not be appropriate where ED has a physical cause, as it usually does, and where general mental health is good. It can, however, be of benefit to men whose ED is situational, and related to anxiety or relationship difficulties, and where ED is associated with poor self esteem and low mood. Surgical prosthetic devices are rarely used. They are a specialist treatment for men who are resistant to other forms of treatment.