How to buy Vitaros cream online
Vitaros cream is prescription only medicine and available to UK customers only.
To buy Vitaros cream online you will need to complete an online consultation for erectile dysfunction before you can make an order.
Read important medical information about Vitaros for erectile dysfunction
Answer medical questions to check for eligibility
Once completed patients choose treatment, register details, and pay online. A doctor will review your order and issue the prescription electronically to our pharmacy. Medicine is then delivered direct to you.
Prices
Medicine
Price

Vitaros cream 300mcg

(4 x AccuDose containers)
£

49.50

Vitaros cream 300mcg (8 x 300mcg AccuDose containers) - 2 packets
£95.00
Vitaros cream 300mcg (12 x 300mcg AccuDose containers) - 3 packets
£140.00
Buy treatment
Dr Fox charges a small prescription fee per order.
Dr Fox prices are 25%-50% lower cost than other online clinics.
If you have your own private paper prescription please post to our pharmacy (details).
Prescription fees
Dr Fox supplies medicine on prescription and charges a small prescription fee based on the order value of each prescription.
Prescriptions are issued by our doctors online and sent electronically to our pharmacy.
If you have your own private or NHS paper prescription please post to our pharmacy (details).
Dr Fox prices are 25%–50% lower than other UK online clinics.
| Order value | Prescription fee |
| --- | --- |
| up to £10 | £1.00 |
| up to £20 | £3.00 |
| up to £50 | £5.00 |
| up to £100 | £8.00 |
| over £100 | £10.00 |
Prices of Vitaros cream

from UK online clinics - qualifying notes

The prices shown are listed by the online clinics named after a customer first enters consultation information and is offered prescriptions. It is possible these clinics may have special offers or lower prices for repeat supplies.
Prices may change and are, to the best of our knowledge, accurate on the date stated.
Dr Fox does NOT claim to provide a superior service to any of the online clinics listed. All the clinics listed, as far as we can tell, comply with all regulation and, as far as we can tell, operate to high ethical standards.
Dr Fox adds a small prescription fee not included in the table (between £1 and £10 depending on value of the order).
To amend the information in this table please contact us
The prices listed in the table do not identify the cost of prescription medicine as online clinics charge a single fee to cover services which includes advice, consultations, prescriptions and dispensing and supply of treatments.

| Medication | Dr Fox | The Online Clinic | Pharmacy2U |
| --- | --- | --- | --- |
| Vitaros cream x 1 (4 doses) | £49.50 | £89.95 | £60.00 |
| Vitaros cream x 2 (8 doses) | £95.00 | £169.95 | £114.00 |
| Vitaros cream x 3 (12 doses) | £140.00 | £239.95 | £162.00 |
| UK Delivery | £2.90 | included | free (over £40) |
<! end medicine_prices_tab -->
Vitaros cream and erectile dysfunction
About erectile dysfunction
Erectile dysfunction (ED) is common, affecting up to 4 out of 10 men over 40. ED has many causes, including diabetes, high cholesterol and poor circulation. All men with ED need to tell their GP about it. Tests may be needed and treatments of underlying cause(s) may be needed.
ED is often stressful and can lead to depression and relationship problems. GPs can help with these issues and counselling may be needed. There are links at bottom of this page to further information.
About Vitaros Cream
Vitaros cream is an alternative to tablets for erectile dysfunction (impotence). Vitaros is applied to the head of the penis by a dropper 5 to 30 minutes before sexual activity. The active ingredient, alprostadil, is absorbed locally into the skin enhancing erections usually for 1 to 2 hours.
Vitaros is not suitable for all men: Dr Fox consultations check for suitability. Men must read the information on this page and the patient information leaflet supplied with Vitaros, before requesting Vitaros. We supply Vitaros to the UK ONLY.
Effectiveness
In a 12 week study 52% of men report improved erections when using Vitaros, compared with 20% using a placebo (dummy cream).
IMPORTANT CAUTIONS
Vitaros cream is not for use with Viagra or sildenafil, Cialis, Levitra, or Spedra tablets. Leave a gap of at least 24 hours (48 hours for Levitra) between cream and tablets. The combination could lead to harmful erections (priapism – see below). The combination could also increase side effects of tablets.
If men have intercourse with a fertile woman of childbearing age whilst using Vitaros, they need to use condoms or ensure the woman is on effective contraception. There is a possible risk of abnormal pregnancies using Vitaros. The exact level of risk is not known. Condoms also protect against potential risks to ongoing pregnancies and prevent vaginal irritation and reduce sexually transmitted disease.
Men who experience erections for 4 hours or more (priapism) should seek immediate medical attention. Prompt treatment is needed to avoid permanent harm to the penis. In studies of Vitaros priapism occurred in about 1 in 4,000 men.
Vitaros should not be kept out of a fridge (2 to 8 celcius) for more than 3 days.
Other cautions
Vitaros is not suitable in men who:
have a drop in blood pressure when going from lying/sitting to standing or experience dizziness or fainting
are allergic to alprostadil
have a condition that might result in a long-lasting erections, such as sickle cell anaemia or trait, thrombocythemia, polycythemia, multiple myeloma, or leukaemia
have an abnormally formed penis
have an inflammation or infection of the penis
are prone to a venous thrombosis (blood clots)
have a hyperviscosity syndrome (thickened blood) which could result in a long-lasting erection
have been told not to have sex for health reasons such as heart problems or a recent stroke
have a partner who is pregnant, breast feeding or of childbearing potential unless a condom is used
are taking drugs to prevent blood clots, as there may be an increased risk for bleeding or blood in the urine.
How to use Vitaros
Vitaros cream is applied to the head of the penis using a dropper as described in the manufacturer's patient information leaflet. Correct technique for use is important.
A single dose applicator delivers 300mcg of alprostadil in 100mg (a few drops) of cream. Vitaros is supplied in packs of four.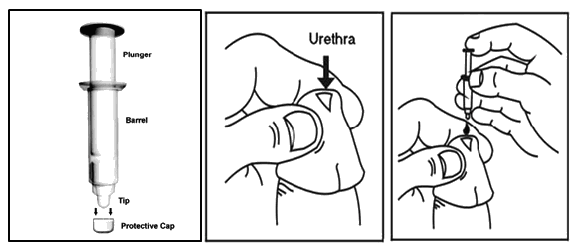 Vitaros should NOT be used more than once in 24 hours and NOT more than 2-3 times weekly. More frequent use risks increased side effects, particularly irritation and soreness.
Vitaros and other medicines
Vitaros should also NOT be used with other injectable or locally applied ED treatments such as Caverjet or Muse. They contain the same active ingredient, alprostadil, and there would be an increased risk of priapism.
Vitaros may be less effective when taken in combination with treatments for high blood pressure, decongestants and appetite suppressants. In combination with high blood pressure medication, Vitaros use may increase symptoms of dizziness and fainting, especially in the elderly.
Side effects of Vitaros
Men who experience side effects with the commonly used tablet treatments for erectile dysfunction may find Vitaros an effective alternative.
Very little of the active ingredient (alprostadil) is absorbed into the circulation. The cream works directly by contact with the skin of the penis. There are unlikely to be significant generalised side effects.
Common side effects (affecting more than 1 in 10 patients):
mild to moderate local aching, burning or pain and redness of the penis
penile skin swelling (oedema)
inflammation of the head of the penis (balantitis)
penile tingling, throbbing numbness, burning
mild vaginal burning or itching and inflammation, in partners
Less common side effects (up to 1 in 100 patients):
light-headedness/dizziness
prolonged erection for more than 4 hours
fainting
low blood pressure or rapid pulse
pain at the application site or in extremity
urethral stenosis (narrowing of urinary outflow)
increase in sensitivity
penile itching
genital rash
scrotal pain
fullness in genitals
lack of sensation to penis
urinary tract inflammation
Driving and using machines
Vitaros can increase dizziness or fainting. Do not drive or operate machinery within 1 to 2 hours after administration.
Adverse reactions
Vitaros is newly licensed (02/08/2013). Please message our doctors about adverse events or report them through the MHRA's Yellow Card Scheme.
Further information
Vitaros cream patient information leaflet
Tablets for ED
Tablets for ED are also available from Dr Fox (separate consultation).
Buy treatment
Dr Fox supplies treatment for erectile dysfunction on prescription – you are required to answer a short medical questionnaire before your order can be completed.
questions
Choose
order
Vitaros currently unavailable - no date for resupply currently known.
Answer medical questions to order
(erectile dysfunction)
Men only
---
The order process
Answer short medical questionnaire
Choose treatment, register, and pay
Doctor issues prescription online
Medicine posted direct from pharmacy
---
Customer reviews
"A vital service combining doctors and pharmacists which is excellent for those unable to take time from work to visit their GP."11 July 2017 – Trusted Shops
"Excellent service from Dr Fox - even when there was some confusion as to where the delivery went, the service from Dr Fox remained first class. They liaised with Royal Mail and ensured my items got to me. Moreover, the company is discreet, trusting and friendly, I won't hesitate to order from here again."10 July 2017 – Trusted Shops
"The service I received was so quick and straightforward it's unbelievable, will definitely be using again very soon. I would recommend Dr fox to anyone who wants a good reliable service."12 December 2016 – Trusted Shops
"Very easy to use and safe website - glad doctors check before prescribing. Goods arrived on time for holiday - result"23 November 2016 – Trusted Shops
"Superb service as always. Have been a customer for some time now and Dr Fox has maintained the quality of care throughout."22 November 2016 – Trusted Shops
"Very satisfied, goods came within a couple of days of ordering, excellent product. Very safe reliable service, will certainly use again."21 August 2016 – Trusted Shops
"The website is well-designed and easy to use, the prices are competitive, and delivery time is fast."21 August 2016 – Trusted Shops
"Uncomplicated, relevant and understandable review process. Prompt answer and prompt and discreet delivery. Excellent price by comparison. Will absolutely use again and recommend."14 August 2016 – Trusted Shops