Vitaros cream and erectile dysfunction
About erectile dysfunction
Erectile dysfunction (ED) is common, affecting up to 4 out of 10 men over 40. There is a complex mix of physical and psychological factors involved in developing an erection and many men have occasional problems getting or maintaining an erection. Anxiety, alcohol, stress, and tiredness can all have a negative effect. Though often checked by doctors, low testosterone levels are not usually the cause of problems. Men who smoke or are overweight are more likely to have difficulties, and ED can also be caused by some medicines and by recreational drug use. ED can be linked to diabetes, high cholesterol, and poor circulation. Frequent cycling of more than 3 hours daily can also have an effect, by directly damaging the nerves to the penis. All men with ED need to tell their GP about it. Tests and treatment for other conditions may be needed as well.
ED is often stressful and can lead to depression and relationship problems. GPs can help with these issues and counselling may be needed.
About Vitaros cream
Vitaros cream is an alternative to taking tablets for erectile dysfunction. Vitaros cream is supplied in a syringe dropper and is applied to the head of the penis 5-30 minutes before sexual activity. The active ingredient, alprostadil, is a prostaglandin which causes increased blood flow to the penis. Alprostadil is absorbed into the skin around the urethra (penis opening) enhancing erections usually for the following 1-2 hours.
Effectiveness
In a 12 week study 52% of men reported improved erections when using Vitaros, compared with 20% using a placebo (dummy cream).
Important cautions
Vitaros cream is not for use with at the same time as ED tablets. The combination could lead to harmful erections (priapism). The combination could also increase side effects of tablets. Before/after using Viagra, sildenafil, Levitra, or vardenafil leave a gap of at least 24 hours. Before/after using Cialis, tadalafil, or Spedra leave a gap of at least 48 hours.
Men who experience erections for 4 hours or more (Priapism) should seek immediate medical attention. Seek prompt treatment by contacting 111 or your local hospital A&E department, to avoid permanent harm to the penis. Priapism is an uncommon side effect, affecting between 1 in 1000 to 1 in 100 men.
Effective contraception should be used as there is a potential risk of abnormalities in the unborn baby from using Vitaros. The exact level of risk is not known.
Store in a refrigerator between 2° and 8° Celsius. Warm to 25° before use.
Vitaros can be kept for up to 3 days outside a refrigerator as long as it is still kept below 25° C. If not used after warming, it should not be re-refrigerated but discarded.
Other cautions
Vitaros is not suitable in men who:
Become dizzy or faint when going from lying/sitting to standing, or at other times, due to a drop in blood pressure.
Have a history of a heart attack.
Are allergic to alprostadil.
Have a condition that might result in a long-lasting erection (priapism), such as sickle cell anaemia or trait, thrombocythemia, polycythemia, multiple myeloma, leukaemia, or any other blood thickening condition.
Have an abnormally shaped penis.
Have inflammation or infection of the penis.
Ae prone to developing blood clots.
Have been advised not to have sex for medical reasons such as heart problems or a recent stroke.
Have a partner who is pregnant, breastfeeding, or of childbearing potential unless a condom is used
Condoms should be used to prevent sexually transmitted disease and also during anal or oral sex. Vitaros may cause damage to non-latex condoms.
How to use Vitaros
Vitaros cream should be brought to room temperature before use, either by removing it from the refrigerator in advance or by rolling the syringe between the hands to warm it.
Vitaros cream is applied to the head of the penis using the syringe dropper as described in the manufacturer's patient information leaflet. Correct technique for use is important.
A single dose applicator delivers 300mcg of alprostadil in 100mg (a few drops) of cream. Vitaros is supplied in packs of four.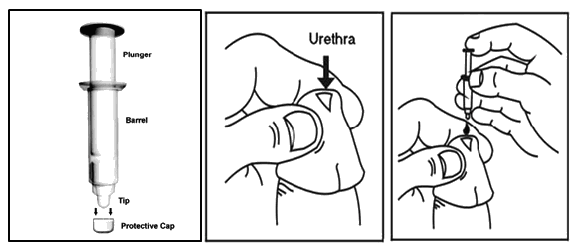 Vitaros should NOT be used more than once in 24 hours and NOT more than 2-3 times weekly. More frequent use risks increased side effects, particularly irritation and soreness.
Vitaros and other medicines
Vitaros should NOT be used with other injectable or locally applied ED treatments such as Caverjet or Muse. They contain the same active ingredient, alprostadil, and there would be an increased risk of Priapism. It should not be used with ED tablets.
Vitaros may be less effective when taken in combination with treatments for high blood pressure, decongestants and appetite suppressants. In combination with high blood pressure medication, Vitaros use may increase symptoms of dizziness and fainting, especially in the elderly.
Possible side effects of Vitaros
Men who experience side effects with the commonly used tablet treatments for erectile dysfunction may find Vitaros an effective alternative.
Very little of the active ingredient (alprostadil) is absorbed into the circulation. The cream works directly by contact with the skin of the penis. There are unlikely to be significant generalised side effects.
Common side effects (affecting more than 1 in 10 patients):
Mild to moderate aching, burning, tingling, throbbing, numbness, pain, or redness of the penis.
Genital rash or itching.
Penile skin swelling (oedema).
Inflammation of the head of the penis (balanitis).
Mild vaginal burning or itching and inflammation in partners.
The manufacturer's patient information leaflet details further possible side effects.
Driving and using machines
Vitaros can increase dizziness or fainting. Do not drive or operate machinery within 1-2 hours after administration.
Alternative treatments for ED
Viagra-type tablets from the class of PDE-5 inhibitor drugs are convenient and work well for many men and are available from Dr Fox. For other treatments, men need to consult a urology specialist. These can include vacuum pump devices, penile injections, or intra urethral (through the penile opening) applications of alprostadil, and surgical devices which can be implanted in the penis. Your regular doctor may also recommend counselling.
Patient Information Leaflet

The Patient Information Leaflet (PIL) is the leaflet included in the pack with a medicine and must be read before taking the medicine. It is written for patients and gives information about taking or using a medicine.

Authored 10 July 2014 by Dr Tony Steele
MB ChB Sheffield University 1983. Former hospital doctor and GP. GMC no. 2825328
Recent reviews
"Excellent, prompt service."12 October 2023 – Alistair S.
"Fantastic service. Quick, efficient & ethical. But best of all, accessible & affordable. No room for improvement!"12 October 2023 – Anonymous
"Easy to use, good price Always easy to order from, re-order facility easy (& saves time)! Super quick delivery, great prices, also do feel if you have any q's they are there to help."12 October 2023 – Anonymous
"Excellent prompt service"12 October 2023 – Anonymous
"A good and efficient service"12 October 2023 – Anonymous
"Very good service as usual"12 October 2023 – Anonymous
"Quick delivery, queries answered"12 October 2023 – Anonymous
"Excellent service, reasonable prices and good choice of products"12 October 2023 – Barry S.
"So easy to use. And safe. Sadly online services like this are the way forward. If you can't get an appointment. Would use this again."12 October 2023 – Anonymous
"Very fast delivery upon request. Much appreciated."12 October 2023 – Anonymous
"Absolutely fantastic service very fast delivery&dquo;12 October 2023 – Anonymous
"Fast and impressed with service"11 October 2023 – Andrea B.