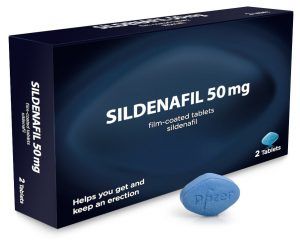 Pfizer, the pharmaceutical company that developed Viagra (sildenafil), has applied to the UK medicines regulator (MHRA) to reclassify it's erectile dysfunction (ED) drug from prescription-only to 'P' (Pharmacy). This would allow pharmacies to sell sildenafil over the counter without a prescription.
The application is for sildenafil 50mg only in a maximum pack size of 8 tablets. Sildenafil tablets are available on prescription in strengths of 25mg, 50mg, and 100mg in pack sizes of four and eight tablets.
The move follows the expiry of Pfizer's exclusive patent for Viagra in 2013. After the patent expired other pharmaceutical companies, apart from Pfizer, have been permitted to supply their own sildenafil tablets, sometimes known as generic Viagra.
The application has support from the pharmacy industry: "Sildenafil is one of the most counterfeited medicines," said Royal Pharmaceutical Society president Martin Astbury, with many men "resorting to the internet to buy medication".
A statement from Pfizer reads:
Pfizer is committed to patient safety, and to ensuring that non-prescription sildenafil is supplied in a way that supports patient safety and improves patient health. Pharmacists are well placed to provide men with helpful and appropriate guidance to manage their erectile dysfunction, and should refer men to a doctor if they believe further investigation is required.
Sildenafil is already available over the counter in New Zealand since 2014 and Poland since 2016. The MHRA are considering the UK application and will make its decision within a few months (June-August 2017).
What does this mean for patients?
Many men suffering from ED will welcome easier access and availability of advice and treatment. If the MHRA approve the application, men will be able to buy Pfizer sildenafil in pharmacies without a prescription, including pharmacies in supermarkets (eg Tesco, ASDA). The Pharmacist would need to ask some health questions, likely in a private room, and may take a blood pressure reading.
According to the application, only men currently prescribed sildenafil 50mg (from a doctor or pharmacist with specialist training) will be permitted to buy sildenafil 50mg over the counter.
The application to reclassify sildenafil applies to 50mg tablets in packs of 2 tablets (in the familiar blue diamond shape), according to the packaging submitted in the application. It is not yet clear how many packs or tablets men will be able to buy at one time, but the application stipulates a maximum pack size of 8 tablets.
If the application to reclassify is successful, prices are unlikely to come down straight away, although Pfizer is yet to announce a recommended price for over the counter sildenafil. Sildenafil produced by Pfizer for supply on prescription is priced significantly higher than that of other manufacturers of sildenafil (generic Viagra). If Pfizer is successful, other generic drug manufacturers are likely to also apply for their sildenafil products to be reclassified as P medicine status, at which point patients might see a reduction in price for over the counter sildenafil.
Many men will require a lower or higher dosage than 50mg. It is recommended to use only the minimum effective dose to mitigate potential side effects, and for men with mild erectile dysfunction symptoms this will be 25mg. Conversely, many men require 100mg to be effective, and in our experience the overwhelming majority request the higher dose, although because some brands of sildenafil are scored they can be broken into half doses.
Sildenafil from Dr Fox
P medicines can also be supplied on prescription, and Dr Fox will continue to supply sildenafil on prescription (in 25mg, 50mg, and 100mg strengths, and up to 32 tablets at one time) and other erectile dysfunction treatments, with the guidance and support of our doctors. Dr Fox is already the lowest cost provider of sildenafil by mail order (from 71p per tablet).
Categories of medicine
In the UK medicines have 3 categories:
POM – Prescription only medicine: supplied by a healthcare professional following a consultation, usually on prescription.
P – Pharmacy medicine: supplied by a pharmacist 'over the counter', sometimes referred to as 'P' medicine.
GSL – General sales list medicine: available from many retail outlets 'off the shelf'.
UPDATE: Viagra Connect was approved as a P- medicine on 27th March 2018 and is now available in a pack of 2, 4 or 8 tablets.
Further information: