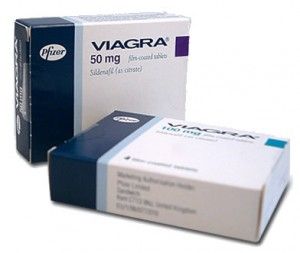 Viagra was developed and is marketed by the Pfizer pharmaceutical company and has been available for use since 1998. The active ingredient is Sildenafil citrate, a PDE5 inhibitor, which increases the flow of blood to the penis to aid men suffering from erectile dysfunction (impotence) achieve and maintain an erection.
Since it was introduced to the market in 1998 the rise of Viagra has been a worldwide phenomenon, helping millions of men suffering from erectile dysfunction and also spawning similar drugs and many third world counterfeit suppliers.
It was the drug that transformed the sexual landscape. Before Viagra, impotence meant shame and often the collapse of all but the most committed relationships. The discovery of its startling ability to restore men's faded sexual function triggered a social revolution as monumental as that caused by the contraceptive pill.
Ten years on: it's time to count the cost of the Viagra revolution, The Guardian, 24 February 2008

More recently there has been evidence of a slowdown in this phenomenon:
The market for Viagra-type drugs has stalled in the United States. Last year the total number of prescriptions for so-called ED drugs declined by 5 percent after growing just 1 percent annually the previous four years.
Honeymoon With Viagra Could Be Over, Say Doctors, ABC News, 9 June 2011
Generic Viagra
Viagra was under patent until June 2013, after which several drug manufacturers marketed UK licenced sildenafil at a much lower cost than Pfizer branded Viagra.
Buying Viagra online on prescription
Viagra tablets were a prescription only medicine, meaning a prescription was needed to be issued in your name by a doctor or other health professional. Viagra Connect is a new brand of Viagra available from pharmacies without prescription. Pfizer made the case to the UK medicines licensing authority, MRHA, that sildenafil could be supplied safely without the need for prescription, but instead with a check from an in-store pharmacist. It is the same medicine as Viagra that is supplied on prescription, although it is costlier.
Dr Fox provides Viagra and Viagra Connect online on prescription following an online medical questionnaire – tablets are posted from a GPhC registered pharmacy direct to the customer.
Erectile Dysfunction
Erectile dysfunction (ED) is used to describe the condition when a man has difficulty getting or maintaining an erection due to lack of blood flow to the penis, preventing them from having full intercourse.
ED also means impotence but the term is thought to be less embarrassing for sufferers and a more encompassing description of the condition.
Erectile dysfunction is quite common and research has shown that more than half of men over 40 have some difficulty getting or maintaining an erection. Age is a factor as are the use of other medications, general health and lifestyle choices.
Erectile dysfunction is not just a "part of ageing" that you need to accept – it's a genuine medical condition and should be treated as such. In most cases, ED won't improve without treatment. It is also important to remember it may be a sign of other underlying conditions so it is important to speak to your doctor about a full medical assessment.
Causes of ED
Age
Diabetes
High blood pressure
Heart disease
Depression
Spinal cord injury
Viagra to treat Erectile Dysfunction
Viagra has been widely used by men successfully for erectile dysfunction since 1998 and has a proven safety record, although there are safety issues that should be observed.
Dosage
Viagra tablets are available in several strengths:
Viagra 25mg tablets
Viagra 50mg tablets
Viagra 100mg tablets
Effects of Viagra
If you have ED, Viagra can help improve your ability to:
Get an erection
Achieve harder erections
Maintain erections longer
The effects of Viagra can last for 4-6 hours and should allow men to achieve an erection when stimulated. A continuous erection for more than 4 hours requires medical attention. It should not be taken more than once in any 24 hour period.
Alternatives to Viagra (sildenafil)
Other tablets used to treat ED are:
Cialis (tadalafil)
Levitra (vardenafil)
Spedra (avanafil)
There are also alternatives to tablets, such as topical applications, injections into the penis, surgical devices, penis pumps, and counselling.
Cost of ED treatment
Our price comparison research has shown Dr Fox is significantly cheaper than other UK regulated online clinics supplying sildenafil. Patients should know the cost of treatment before undertaking a medical consultation.
How Viagra was discovered
Viagra – the fastest selling drug of all time – was discovered by accident:
It started life as plain old UK92480, a new treatment for angina, a heart condition that constricts the vessels that supply the heart with blood.

The drug company Pfizer was looking for something that would relax these blood vessels, however its trials in people were disappointing.

Pfizer were about to abandon further trials when the trial volunteers started coming back and reporting an unusual side effect – lots of erections.
From Viagra and other drugs discovered by accident (BBC, 20 January 2010).
Ubiquity of Viagra
Viagra was such a global success the name is widely-used in mainstream media:
Viagra … is the world's most ubiquitous medical brand name. Type it into Google and a search throws up more than four million references: 10 times more than Prozac and 20 times as many as Botox, its nearest competitors.

The drug has also spawned its own catalogue of jokes and become a byword for efficacy and impact. Nicole Kidman's nude scene in the play The Blue Room was famously described as 'pure theatrical Viagra', for example, while in the US the Survivor TV series was labelled 'CBS's Viagra', a magic pill that made the network virile.
Ten years on: it's time to count the cost of the Viagra revolution, The Guardian, 24 February 2008
The product is now being stocked in major supermarkets and issued under guidance by pharmacists: Tesco to sell 'cut-price' Viagra.