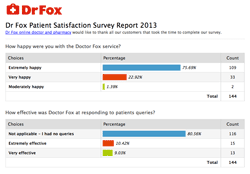 Dr Fox has undertaken an independent customer satisfaction survey for 2013, the results of which continue to confirm that our commitment to providing the best service possible is recognised by our customers.
98% of people were either 'extremely happy' (75.7%) or 'very happy' (22.9%) with the Dr Fox service and 92% said they were 'very likely' or 'extremely likely' to use our service again.
The full survey results are available to view here.
We would again like to thank all our customers that took the time to respond to our survey this year.
Customer comments
A selection of customer comments from the survey.
"How could the service / site be improved?"
Excellent online service, especially when you have a hectic schedule, items dispatched and posted within days, recommend it.

Can't think of anything, I found the website and service very good.

I do not think that there needs to be any improvement. Everything is so straight forward, and the service from start to finish is excellent. Thank you.

very happy with the way it works – looked at other sites but find yours value for money, easy to navigate around and response times are good. I could go to the doctors, other sites but I dont even think that for now having discoverd your site.

Excellent site, quick and discreet service.

Don't think it can be improved. Absolutely spot-on. I cannot be more pleased.

Offer a repeat prescription service for those who have already bought a prescription from you for treatments such as ED. In other words customers pay for the drug and not yet another consultation and prescription.

I have given this a great deal of thought but can not think of anything that needs changing or improving. It's a great site.

Upon visiting the site initially, the home page appears somewhat congested. Would benefit from some attention with a view to simplifying the opening page.

Perfect service – quick, easy to use and discreet.

As far as I can tell you have got it 'spot on'. Great communications and genuine care for you customers. Well done to your excellent team.

I feel it was easy to use and just GREAT!!! and thank you for a wonderful service ….I will use again and recommend you. 5stars *****

It is simple to use and the online consultation is really helpful. I travel for work and don't have time to go to an NHS doctor all the time (it is hard to get an appointment). This is really useful.

little bit more user friendly.

I can't think of anything that needs improvement. The service was fast and efficient.

I found the whole experience of ordering from you highly successful and can think of nothing that could be improved. Thank you.

Maybe live chat to answer questions immediately.

To date customer service 100%, had no problems at all.

Thank you for your first-class service. I received the medicines discreetly and in timely manner. The website is very easy to use. The information from the webpage is very accurate and helpful.
Will definitely use the service again! *****

As this was my first time using Dr Fox I can only comment on that particular usage, however I was very happy with the service received and confidence was increased with the follow up email's/advice given.

Cheaper prices or incentives for repeat business.

The service is first class. I would not use any other site.

No improvement necessary, very very happy with the excellent service from beginning to end.
View the results from the 2012 Customer Satisfaction Survey.