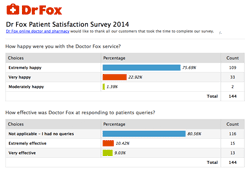 Dr Fox has undertaken an independent customer satisfaction survey for 2014, the results of which continue to confirm our commitment to providing the best service possible is recognised by our customers.
96.31% of people were either 'extremely happy' (78.34%) or 'very happy' (17.97%) with the Dr Fox service and 92.17% said they were 'very likely' or 'extremely likely' to use our service again.
The full survey results are available to view here.
We would again like to thank all our customers that took the time to respond to our survey this year.
Customer comments
A selection of customer comments from the survey.
"How could the service / site be improved?"
I found the service faultless.

Pretty good as it is. Costs very good and very prompt delivery. No complaints at all and good to know that products are from a statutorily regulated company.

I was a bit nervous about using the site at first and researched it. Checked it was a member of the pharmaceutical register (it was) checked it was British (it was – there are a lot of problems with American sites claiming to be British). I was delighted with the ease of the site. My prescription arrived the next day recorded delivery.

Excellent. I am really pleased that I do not have to take time to attend my GP for something that reoccurs with me and I know the prescription that I need to cure it.

Would totally recommend to anyone.

Excellent service I fully trust and prices are reasonable unlike other greedy websites

The site is great – nothing needs improveing as far as i am comcerned, thank you.

Both the site and the service were excellent. No improvement is needed

Perhaps by recording credit card/ payment details for established customers (with strict security), to avoid the hassle of repeat customers having to re-enter these on every order, similar to Amazon?

You provide a first class service. You have my won my trust to use your services again. As far as improving the site, I always think reviews win confidence and make new customers willing to try you for a first time

I dont usually reply to follow up surveys but think Dr. Fox is actually rather good!

Can't think of anything, great service, prompt delivery.

The service I received was second to none, if it works,don't tinker with it.

very good service dont change a thing. thanks

very happy with service as it is

Great service with no problems.

Nothing to improve good and clear

As usual, quality, high standard service

User friendly and easy to navigate.

A mobile app is the only thing I can think of that would improve the service you provide.

No further comment as I see no adverse side of the service. Thanks.

Perfect service, perfect delivery. Keep it up.

I had a special request and found it difficult to find a box to enter this.

I had to email after my order had been accepted, but apart from that, everything was excellent!

site and service faultless, gives peace of mind re questions answered promptly, cannot rec higher as if its perfect leave it alone

The service was extremely good I got my delivery on time, no problems keep up the good work

Prices are a little expensive.

Happy with the way it is.

Lower the prices……would be nice

Very pleased with the prompt efficient service provided by Dr Fox.

A first rate website and service.

only by even more competitive prices!

Not sure it can be improved. Maybe a user forum.

YOU CANT IMPROVE PERFECTION

Already recommended Dr Fox to friends and a family member. Delivery was super fast which is helpful!

No improvement's needed. Very happy with service provided.

delivery without requiring signature would be convenient – I don't know if its a legal requirement for prescription medicine but certainly you have delivered to republic of ireland for me and no sig was required on arrival.

It would be difficult to improve, it is easy to use especially when you have already bought from the site before. Well done

Excellent efficient service.
View the results from the 2013 Customer Satisfaction Survey.