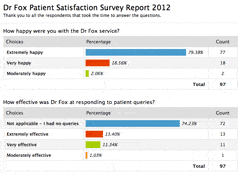 Dr Fox has recently undertaken an independent customer satisfaction survey, the results of which have been very encouraging.
98% of people were either 'extremely happy' (78.5%) or 'very happy' (19.3%) with the service and 93% said they were 'very likely' or 'extremely likely' to use the service again.
The full survey results are available to view here.
We would like to thank those customers that took the time to respond to our survey.
Customer comments
A selection of customer comments from the survey.
"How could the service / site be improved?"
the service is excellent I cant think of any area that it can improve will definitely recommend and use in the future.

The service is actually impeccable! A+! The whole procedure is extremely easy! Speaking from my point of view, I could not see another way of making this service any better!

Service worked exactly as one would want.

Quick, cheap and hassle-free. Thank you!

Perhaps more clinical areas of treatment in the near future. Otherwise an excellent professional site from the Doctor and his team. The pharmacy is first class service after the receipt of the prescription from the medical team.

nothing to add, great service and delivery will be back soon for some more thank you.

Nothing obvious. Delivery was very prompt.

No need – everything was professional and easy to use, quick and friendly service. I felt really secure ordering from the website and will definitely use again!

No improvement required, a great first class service and highly recommended. Thanks again.

I THOUGHT THE SERVICE WAS EASY TO USE AND EXTREMELY EFFICIENT – I WAS VERY IMPRESSED – WELL DONE !

I think your service is first class I will always use Dr Fox.

I think it all ready is good cant see reason for any change you feel safe knowing it is qualified doctors treating you.

I do not think the service can be improved, its first class.

I don't think it could. I hope I don't get Cystitis again, but should I, I would not hesitate to use Dr. Fox again.

Excellent service, I often need a prescription for the order I had with frequent UTIs, but as I work full time, it is often difficult to get to the GP, so it was fantastic to be able to order some from your site. If there was an improvement, I would suggest you allow users to purchase 2 courses of treatment at once to have one in stock many thanks.

The only minor complaint was that I like to order two packs at a time and there was no way to add the second one to the basket without going through the whole procedure again. Otherwise, it is very useful to be able to get an antibiotic online to keep at home, as it is difficult to get an appointment with the doctor and cystitis responds very well to immediate treatment. Many thanks.

Nil other wise this is a superb service. I do not know what I would have done without this possibly my condition would have exacerbated before I would be forced onto sick leave and would then have had the availability to see my GP. First rate advice and screening also and importantly first rate genuine medication. Thank you so much.

Some of the questions were a bit hard to understand but overall it was quite easy to use the website.