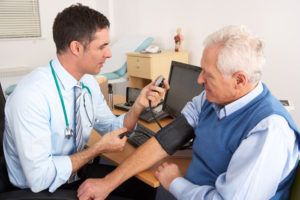 With all of the publicity surrounding 'the little blue pill', it may seem as though you could just borrow one from a friend to help you regain your sex life. But while Viagra is effective, and has relatively few side effects, it is a prescription-only medicine and must be taken under a doctor's care.
UPDATE APRIL 2018: Viagra Connect contains sildenafil 50mg and is now available over the counter from a pharmacist.
Some patients are not good candidates for Viagra; due to certain medical conditions or other medications they are taking they may be at higher risk of side effects. Erectile dysfunction can be indicative of an underlying health condition that should be treated before considering Viagra, and still other cases of ED are psychological, requiring counselling and therapy instead of medication.
Learn why it is important that Viagra, and all other PDE5 inhibitors, be taken only under a doctor's care.
Avoid overlooking a significant health condition
An erection occurs when a man becomes sexually aroused; his brain signals nerves in the penis to increase blood flow to the area. Any illness that affects blood circulation or the nervous system could interfere with the ability achieve an erection. ED can also be caused by low libido resulting from a psychological condition, or be the side effect of a certain medication.
All cases of erectile dysfunction should be discussed with a doctor in order to determine the root cause. It can be one of the first warning signs that the patient has atherosclerosis (narrowing of the arteries), high blood pressure, or diabetes.
A doctor will also need to evaluate whether the case of erectile dysfunction is something that has come on gradually or suddenly, in order to determine the cause.
Different causes of ED require different treatment
Often if the patient is diagnosed with heart disease or diabetes, that condition must be treated first. Treating the underlying cause may even provide relief from ED. If a certain medication is causing erectile dysfunction there may be an alternative but it is important not to stop taking a prescribed medicine unless advised by your GP, as this could also affect your health.
If the cause of ED is related to lifestyle, in cases where the patient is obese, a smoker, or physically inactive, for example, a doctor may also recommend lifestyle changes to help resolve the condition.
Viagra may react with other medicines and conditions
Taking Viagra and other PDE5 inhibitors alongside medicines and illicit drugs that contain nitrates can have a dangerous effect on the heart. Nitrates may be used to treat the heart condition angina, and butyl nitrate is a recreational drug called 'poppers'.
Viagra should be also used with care by men with cardiovascular disease, Peyronie's disease, those who are at risk of priapism, and those taking long lasting alpha-blockers.
The NHS also warns against taking PDE5 inhibitors if you have recently had a stroke, have low blood pressure, or have had a heart attack, among other conditions. All of these factors should be taken into careful consideration by a doctor before Viagra can safely be taken.