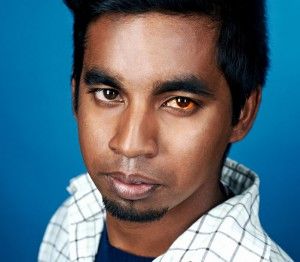 Background context
Many millions of men have taken Viagra (sildenafil) repeatedly and regularly for up to 15 years, since it became available in 1998.
The concerns raised in this article are based on a single short term study in mice, which may not be relevant to humans. The mice study was carried out using very much higher doses than are taken in humans.
The side effects of medicines are monitored. There has been no reporting of widespread permanent damage to vision in men taking Viagra/sildenafil. There is no need for men to be alarmed as we discuss this is more detail.
Could 1 in 50 people be at risk?
In a recent study published in the journal of the International Society for Eye Research, a mice study revealed that Viagra/sildenafil can cause temporary changes in the retinas of mice which have a genetic abnormality affecting vision. It has been suggested that this might mean Viagra/sildenafil may damage retinas in people with inherited eye disease – and even people with normal eyesight carrying a recessive gene for RP or retinitis pigmentosa, according to UNSW research.
Retinitis pigmentosa
The rare inherited eye disease called retinitis pigmentosa causes cells within the retina to die off slowly. RP sufferers begin by having difficulty seeing in low light conditions, then may lose peripheral (side) vision and/or central vision and might go legally blind. According to Victoria's Better Health Channel, about one in every 3,000 Australians is affected by retinitis pigmentosa. It is more prevalent in Asian groups, in particular Pakistani, Indian, and Bangladeshi communities. There is no cure for the disease, although research into gene therapy, vitamin A use, and other treatments have been and are being undertaken.
Carriers with normal eyesight
Recent findings, based on one study in mice, suggest that Viagra's active ingredient sildenafil could cause eye damage to those who only carry the recessive RP gene – but are otherwise perfectly healthy. These are people with normal eyesight who would never develop retinitis pigmentosa. This is a much larger group of men than the group that actually have the rare condition of RP. According to the UNSW study published in 'Experimental Eye Research', men, who may never know they carry the recessive gene, could possibly be genetically susceptible says NSW School of Optometry's Dr. Lisa Nivison-Smith, they are "unlikely to know this, because their vision is normal".
UNSW mice testing of sildenafil
Some mice showed early signs of temporary retinal abnormalities when given a single high dose of sildenafil. Healthy rodents studied had "transient" eye problems after taking the drug – and the RP gene-carrying group had problems for much longer. The UNSW School of Optometry's Dr. Lisa Nivison-Smith noted that the retinal cell changes could lead to blindness. The study shows, she explained, that men who carry one copy of the RP gene could be more prone to experience retinal changes due to sildenafil.
The UK's NHS website emphasised that results are not proven in humans; that there was no proof of permanent retinal degeneration (as the changes were reversible in the mice); and the amounts tested on the mice were 5 times or more than the recommended dose for men. They warn, however, that men should stop taking sildenafil and seek medical attention immediately if they abruptly develop eyesight problems.
Viagra/sildenafil, like most medicines, has never been side-effect free
It has always been known, although perhaps sometimes ignored, that the little blue diamond-shaped pill, has side effects (see side effects of Viagra/sildenafil). Pre-approval clinical trials for Viagra had already shown that sildenafil in high doses can cause vision disruptions – even in perfectly healthy men.
Where there is a long list of side effects for an established medicine, some warnings can lose their impact.
Viagra/sildenafil patient information leaflet (PDF)
What to make of new drug studies
If you have a retinitis pigmentosa diagnosis or experience any vision changes while taking Viagra/sildenafil, talk to your doctor. Watch for any changes, including colour vision or perception changes, light sensitivity or blurred vision. If you have RP or may be carrying the gene, please talk to your doctor for advice and weigh your specific and unique risks.
During the Dr Fox online consultation for Viagra/sildenafil men are asked a number of health questions, one of which is "have you been diagnosed with a family history of the degenerative eye disease, including retinitis pigmentosa (rare)?" If the answer is yes you must speak to your GP before taking sildenafil as further tests may be required.
Support and further information