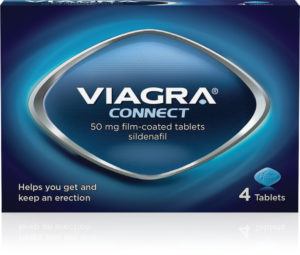 The UK medicines regulator today (28 Nov 2017) approved an application to make Viagra available over the counter in pharmacies ('P' medicine classification). See MHRA reclassifies Viagra Connect tablets to a Pharmacy medicine.
Pfizer's new product will be called Viagra Connect and will contain 50mg of Viagra (sildenafil) in packs of 2, 4 or 8 tablets and is expected to be available Spring 2018. Pricing is unconfirmed but likely to be around £5 per pill.
The MHRA's decision follows the expiry of Pfizer's exclusive patent for Viagra in 2013, after which other pharmaceutical companies were permitted to supply their own Sildenafil tablets and prices were slashed. More recently (14 November 2017) the patent expired for Cialis (another popular drug for erectile dysfunction), and the price of generic Cialis ('Tadalafil') is significantly lower.
Dr Fox medical director Dr Tony Steele said:
We would still advise all men with erectile dysfunction to talk to their GP but they will now benefit from better access to treatment and pharmacists are well-placed to provide advice and support.

If other drug manufacturers follow Pfizer's lead the cost of treatment could come down. Only 50mg tablets are covered by the change in the licence.

Dr Fox online clinic supplies all strengths, up to a month's treatment at a time, from 95p per tablet. Other online clinics supply similar treatment but usually at higher prices.
Sildenafil is used to treat erectile dysfunction in men and before the ruling was classified as 'prescription only' medicine. It is available in three different strengths: 25mg, 50mg, and 100mg. The recommended starting dose is 50mg. Depending on the response to treatment dosage can be changed.
It is recommended to use only the minimum effective dose to mitigate potential side effects, and for men with mild erectile dysfunction symptoms this will be 25mg. Conversely, studies show many men require 100mg to be effective, and in our experience the overwhelming majority request the higher dose, some brands of sildenafil are scored and can be broken into 2 x 50mg doses.
Viagra Connect Patient Leaflet
Sildenafil from Dr Fox
P medicines can also be supplied on prescription, and Dr Fox will continue to supply sildenafil on prescription (in 25mg, 50mg, and 100mg strengths, and up to 64 tablets at one time) and other erectile dysfunction treatments, with the guidance and support of our doctors. Dr Fox is already the lowest cost provider of sildenafil by mail order (from 71p per tablet).
Categories of medicine
In the UK medicines have 3 categories:
POM – Prescription only medicine: supplied by a healthcare professional following a consultation, usually on prescription.
P – Pharmacy medicine: supplied by a pharmacist 'over the counter', sometimes referred to as 'P' medicine or 'PMED'.
GSL – General sales list medicine: available from many retail outlets 'off the shelf'.