Spedra (avanafil) is a new fast acting prescription drug for the treatment of erectile dysfunction (ED). It works in a similar way to older well established ED drugs, Viagra/sildenafil, Cialis/tadalafil, and Levitra/vardenafil. These medications are all known as PDE5 inhibitors. They work by increasing the blood flow to the penis at times of sexual stimulation.
Stimulation is required before these tablets will work. If there is no stimulation, tablets remain inactive and active ingredients are eliminated harmlessly from the body over a day or so.
Spedra is a relatively new medication. It is under exclusive licence and marketed only by the pharmaceutical company Menarini. Menarini have set the wholesale price of Spedra to be competitive with other branded ED treatments – although generic sildenafil, tadalafil, or vardenafil, which is medically identical to the branded originals Viagra, Cialis, and Levitra respectively, is usually cheaper.
A single 50mg Spedra tablet from Dr Fox costs from £3.10. Some other online clinics charge £5.84 or more per tablet.
See Spedra price comparison table.
Buying Spedra online
Spedra is available only on prescription. Men who obtain Spedra online should use only UK regulated online clinics' websites. These will be Care Quality Commission, General Pharmaceutical Council, and MHRA registered services. Regulated sites sell genuine Spedra, give accurate medical information, and carry out prescribing safety checks.
Fast acting treatment
Studies show that, if it is taken on an empty stomach, Spedra starts working quickly. It may take as little as 15 minutes to start to work. If Spedra tablets are taken on a full stomach, absorption can be delayed for up to 1.5 hours. In most men significant amounts of the active ingredient, avanafil, remain in the circulation for at least 6 hours.
Study data: Successful intercourse was demonstrated 6 hours post dosing, with 59% to 83% of the 80 sexual attempts successful in avanafil-treated subjects compared with 25% of placebo-treated subjects.
Trying different treatments
All the PDE5 inhibitors act in the same way. Some men find, that for them, one might work better than another. Spedra, apart from being fast acting, has a similar duration of action to Viagra (sildenafil) and Levitra (vardenafil), both remaining active usually for about 4-6 hours. Cialis (tadalafil) is a longer acting drug, and can be effective for up to 36 hours. Low dose Cialis tablets can be taken once daily on a regular basis.
Only one type of PDE5 inhibitor tablet should be taken at a time, with a gap of at least 24 hours between tablets of different types.
Spedra tablets should not be taken more than once daily (24 hours). The most commonly reported adverse events in men taking avanafil included headache, flushing, and nasal congestion.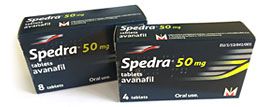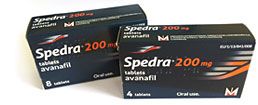 Strength of tablets
Spedra comes in 3 strengths:
Spedra 50mg
Low strength dose for men who's response to 100mg requires adjusting downwards.
Spedra 100mg
Recommended dose for men starting treatment.
Spedra 200mg
High strength dose for men who's response to 100mg is not satisfactory.
Seeing a doctor
Erectile dysfunction is common and most men who have it are in reasonable health. However, ED can be a 'signal condition' for circulatory and lifestyle problems. Its presence prompts a doctor to check for diabetes, high cholesterol, high blood pressure, low thyroid and a range of other conditions. All men who develop ED should see a doctor for a check-up. Even if tests are normal, there may be other treatments to try, apart from tablets.
Alternative erectile dysfunction treatment
There are alternative treatments for ED, apart from PDE5 inhibitors tablets like Spedra. This is particularly true if ED develops as a result of a spinal injury or after abdominal or prostate surgery. Penile implants are sometimes a better option.
Men whose ED is related to stress, performance anxiety, or who are depressed or experience relationship difficulties, will probably benefit from counselling.
Further information
Details about how to take Spedra, potential side-effects and interactions with other medications can be found in the manufacturer's patient information leaflet.