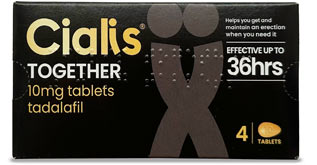 On 14 March 2023, the UK Medicines regulator (MHRA) approved an application to reclassify the erectile dysfunction medication Cialis. When marketed as Cialis Together (tadalafil 10mg), it will be a 'P' (pharmacy) medication, and so available 'over the counter' in pharmacies – see MHRA reclassifies Cialis Together tablets to a Pharmacy medicine – GOV.UK. This follows the 2018, 'P' classification of Viagra Connect (sildenafil 50mg) which has been available OTC, without a prescription, since then.
This decision is good news for men's health …. Erectile dysfunction can be a debilitating condition, so it's important men feel they have fast access to quality and legitimate care

Dr Laura Squire, MHRA's Chief Officer for Healthcare, Quality and Access
Unfortunately, there is a strong black market in the UK for ED medicines, which are often unlicensed or counterfeit. UK Border Force and the MHRA seize millions of pounds of these fake products from criminals annually. This new classification of tadalafil 10mg will enable men who suffer from ED to obtain it safely from a local pharmacy.
Sanofi, the drug manufacturer, is expected to launch Cialis Together later in 2023. Cialis Together will be available to purchase in pharmacies without a prescription by men over 18 with erectile dysfunction. Cialis Together tablets will contain 10mg tadalafil and the maximum pack size will be 8 tablets. Other doses and pack sizes of Cialis and tadalafil will still be available on prescription through doctors and specially trained pharmacists. Before purchase in a pharmacy there must be an assessment with a pharmacist, who will check that Cialis Together is appropriate and safe, or whether consultation with a GP is necessary.
What does this mean for patients?
Men suffering with ED will have another treatment option with the convenience of purchasing it in their local pharmacy, including pharmacies found inside supermarkets (eg. Tesco, Asda, Sainsbury's). The pharmacist will ask some health questions, may check blood pressure, and will advise on treatment with Cialis Together or Viagra Connect, or the need to consult a GP. Pharmacies usually have a private room for such discussions.
Cialis Together is a 10mg tadalafil product for use at least 30 minutes prior to anticipated sexual activity. Its effects can last for up to 36 hours. It is not recommended for daily use. The maximum recommended dose of Cialis Together will be one tablet in 24 hours. Prescription Cialis and tadalafil will still be available at different doses.
Dr Fox welcomes the wider access to ED medication for men that Cialis Together classified as a 'P' OTC medication will provide. We at Dr Fox are aware of the difficulties men have in discussing ED with their GPs and in accessing ED medication. We know that Cialis is effective and safe for most men and this change provides another option for obtaining ED treatment. Pharmacists are health professionals who are able to give ED advice but they will also know when to refer men who would benefit from a doctor's assessment. 'P' medicines can also be supplied on prescription, and we will offer Cialis Together, when available, alongside our other competitively priced ED products.

Dr Claire Pugh, Dr Fox Medical Director
Categories of medicine
In the UK medicines have 3 categories:
POM – Prescription only medicine: supplied by a healthcare professional following a consultation, usually on prescription.
P – Pharmacy medicine: supplied by a pharmacist 'over the counter', sometimes referred to as 'P' medicine or 'PMED'.
GSL – General sales list medicine: available from many retail outlets 'off the shelf'.