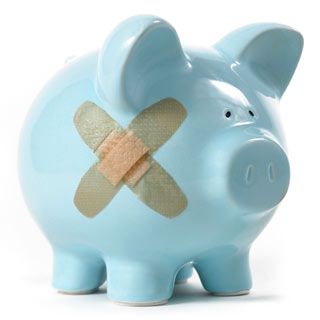 Have you ever wondered just how free healthcare got so expensive? Looking back at the end of a month or year, many people are shocked to find how health-related expenses have added up, despite the NHS. Never fear, here we'll list some entitlements that you might pursue and other convenient secrets to keeping your health expenses low:
Use the NHS minor ailments service available from some pharmacies. In some parts of the country and all of N. Ireland and Scotland pharmacies can provide some treatments for minor ailments at the cost of an NHS prescription, or free if a person is eligible for free prescriptions. Depending on where you live pharmacies can treat:

skin conditions, such as mild acne and mild eczema
coughs and colds, including nasal congestion and sore throat
minor cuts and bruises
constipation and haemorrhoids (piles)
hay fever and allergies
aches and pains, such as headaches, earache and back pain
indigestion, diarrhoea and threadworms
period pain and thrush
warts and verrucas, mouth ulcers and cold sores
athlete's foot
nappy rash and teething

Get a Season Ticket: If you're prescribed more than a single medication per month (or 4 medicines in 3 months) in England, NHS prescription prepayment certificates or season tickets should prove worthwhile. Unlimited season tickets cover prescriptions for a 3-months period (for 30.25) or get 1-year certificates for £108.10 (February 2022). Call 0300 330 1341, or apply on the NHS Prescriptions website or request an application form at participant pharmacies. You can reclaim part of the cost of your season ticket if you become eligible for free prescriptions within the period.
Go generic and pay just 20 percent (or less) of the brand name cost. Generic medications are regulated, so that you get the same active ingredient. Inactive ingredients may vary, so check those details if you have allergies.
Stay healthier with healthy lifestyle changes. Assess what you can do, such as quitting smoking, eating well, getting daily exercise and/or joining the gym, losing weight if necessary, caring for chronic conditions properly, drinking plenty of water and more. Get a friend to join your improvement campaign – to keep you company and keep you honest. You'll enjoy lower costs for health insurance, medical treatment and medications. You may get a mood boost as well.
Get low-income help by applying for the NHS LIS (Low Income Scheme). To qualify, your savings, property and investments (excluding your residence) must be worth below £16,000 (or £23,250 for those in a care home) in England. Dependent children and partner are included in your benefit, which covers prescriptions, dental work, eyecare, travel to healthcare along with wigs and fabric supports, surgical brassieres, spinal or abdominal supports. Apply and qualify for the full help HC2 certificate or the partial help HC3.
Claim working-age benefits: For those in and out of work, the new combined DWP Universal Credit began in mid-2013 to combine working-age benefits into one payment system. Full help was originally provided – with an update promised shortly (around October 2014). Universal Credit provides free NHS prescription medicines, dental treatment, wigs and fabric supports, eyesight testing. It also offers optical vouchers to help toward paying for glasses or contact lenses and partial travel costs of travel to an NHS appointment on referral by a primary care doctor, optician or dentist. To claim help with your health costs, show your UC award letter and sign the NHS prescription or dental treatment form. If you see no box for Universal Credit, tick the box for income-based Jobseeker's Allowance.
NHS Free dental care is available if, when the treatment begins, you are: Under 18 (or under 19 if receiving full-time education), in hospital and your treatment is rendered by the hospital dentist, or if you are a dental service outpatient at an NHS hospital. You're also entitled if you're pregnant or your newborn is under 12 months of age. You may be asked to show proof such as the MatEx, MATB1 (maternity or exemption certificate) or your infant's birth certificate. Free dental care is also offered if, during treatment, you or your partner are on: Employment and Support Allowance or Jobseeker's Allowance (except for contribution-based), Income Support, Universal Credit, Pension Credit, NHS tax credit exemption certificate or HC2 certificate.
Otherwise NHS Dental costs are (February 2022):
£23.80 for Band 1 Basic Preventive Care and Cleanings
£65.20 for Band 2 Fillings, Root Canal, Extraction, Etc.
£282.80 for Band 3 Crowns, Bridges and Dentures
NHS Sight tests and glasses or contact lenses may be available for free, or may be partially covered with optical vouchers. Mobile sight tests and optometry services are also offered to qualified groups.
The Healthcare Travel Costs Scheme (HTCS) helps qualified individuals pay for part of the travel to hospital or other NHS facility for testing or treatment referred by a doctor or dentist. Qualifications: You must meet all three: You or your partner must be receiving one of the qualifying benefits or be eligible for the LIS (Low Income Scheme) AND You must have a referral to NHS non-primary medical or dental care AND services must be provided on another day, in another location from your referring doctor. An escort's or carer's travel may be covered if your doctor declares it medically necessary. Children's travel may also be covered.
See a doctor online: Visit a low cost, regulated online doctor clinic such as www.doctorfox.co.uk for routine private prescription treatments that are not covered by the NHS. UK GMC-registered doctors issue prescriptions and medicine is posted to you directly. No need to get your coat on to visit your GP and then a pharmacy – save time, stress and travel costs.