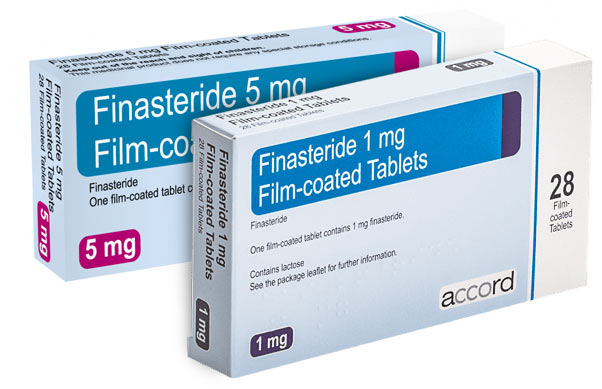 There is currently very little research into Post-Finasteride Syndrome (PFS), probably in part to it being rare and also the varying side effects that sufferers experience. Not all doctors are aware of this syndrome, however it was recognised in the USA in their list of rare and genetic diseases in 2015.
What is PFS?
Finasteride 1mg, also known by the brand name Propecia, is used to treat male pattern baldness. It is also used at a higher dose of 5mg to treat men with symptoms from enlarged prostates. As with all drugs, there is the potential to experience side effects from the medication – erectile dysfunction and reduced libido being the most common. In most cases these side effects settle when the medication is stopped and is no longer in the body's system. However, rarely, some men continue to experience sexual dysfunction alongside other neurological and physical symptoms and this has been termed PFS. It can be diagnosed if the symptoms persist 3 months after stopping the medication and there are no pre-existing illnesses or current medical conditions or medications that could account for the symptoms.
What symptoms do men experience with PFS?
The Post-Finasteride Syndrome Foundation lists a number of symptoms that have been reported.
Sexual: Decreased libido, erectile dysfunction, orgasm or ejaculatory disorders, penile or scrotal shrinkage and numbness.
Physical: Breast enlargement, fatigue, muscle pain or weakness, skin changes, tinnitus.
Mental and neurological: Depression, anxiety, insomnia, difficulty concentrating, trouble problem solving.
Treatment of PFS?
Unfortunately there is no cure for PFS at this time, however it is important to discuss the different symptoms with a GP as there may be treatments that help with some of the symptoms.
Can we be sure that these symptoms are associated with the use of finasteride?
PFS is still a controversial condition, in part to there not being any high quality research into it. There are also other possible explanations for these symptoms.
Nocebo effect is the term used to describe side effects experienced by someone due to their negative expectations of a medication. There is a study that shows exactly this with finasteride. Men in the study were split into 2 groups, one counselled on the sexual side effects and one group not. In the group that knew about the side effects, 43.6% reported sexual dysfunction compared with 15.3% in the group where it was omitted.
Another fact is that hair loss is common, reported by 50% of men over 50. Link this with the fact that erectile dysfunction is also common, affecting around 22% of men between the ages of 20 and 75, it has been suggested that these symptoms may be incidental. Existing mental illness and experiencing a mental health problem is also common, "1 in 4 will experience a mental health problem of some kind each year in England" (mind.org.uk). The reasons for depression and anxiety are often multifactorial and again it is difficult to determine if finasteride is the cause of this, however patients are recommended to stop the treatment if symptoms do develop.
Alternative treatments for hair loss?
If you decide finasteride tablets are not for you you could try using minoxidil solution/foam on your scalp, also known as Regaine Extra Strength. Finasteride is also available as a topical solution which is thought not to cause the same side effects as when taken orally. There are also hair thickening shampoos available that contain ketoconazole or saw palmetto that may help.
For a more permanent and costly option you could look at hair transplant surgery, although be aware that finasteride tablets are often advised pre and post surgery.
You could also embrace the change and adopt a new hairstyle or go for a shaved head look!
Should I use finasteride?
That is a decision only you can make taking into consideration all the above information. PFS is extremely rare and there is currently little research into this. It has been reported to be more common in younger men taking the drug, aged between 20 and 42, and the risk increases in this group if taken for longer. However erectile dysfunction and reduced libido side effects usually improve after a while when taking finasteride, as reported on the NHS finasteride webpage.
Finasteride tablets are currently the most effective treatment for hair loss and the majority of men get along fine with them (read reviews) but there are alternatives if you decide they are not for you as described above.
References