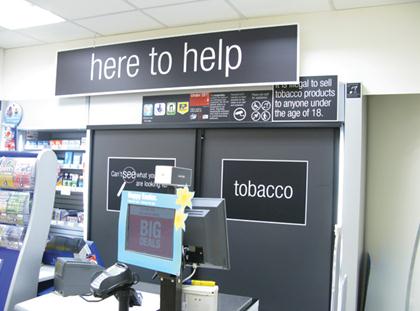 In recent years, many countries including the UK have taken significant action to try and reduce the number of people who smoke. One of the first major steps came in 2003, when tobacco advertising was banned. A few years later in 2007, it became illegal to smoke in public buildings.
Now the UK is taking further action and introduced a ban in April 2012 to stop shops from displaying cigarettes, similar to bans that already exist in some other countries such as Iceland and Norway. One of the aims of the display ban is to try and make cigarettes less tempting to young people but while it has many supporters, some have taken objection to the action. For instance, some small retailers and big tobacco firms are against the ban as they think it could harm business.
The smoking cessation market, however, has welcomed the UK's moves. As increasing numbers of people take action to quit smoking, companies that work in the area see growing opportunities. It is thought that therapies and other treatments are important for many people when quitting smoking; this is backed up by research from GSK that found that although 70% want to quit smoking, only 5% achieve their goals.
There are plenty of therapies already on the cessation market, including GlaxoSmithKline's Zyban drug. Another popular stop-smoking pill is Champix, which was created by Pfizer and in 2011 managed to bring in £720m in revenue. These two drugs are both available on prescription only, adding to the already extensive number of over the counter nicotine replacements.
One thing that patients need to be aware of when taking drugs such as Champix is safety; there has been some concern about issues such as heart problems as a result of taking these drugs. There have also been stories about patients committing suicide or experiencing mood swings as a result of the drug, and some similar issues have been raised in relation to Zyban. Despite the concerns, however, they still offer an effective way of quitting smoking – just make sure you consult your doctor about the best course of action for your own treatment.
As well as these prescription drug options, nicotine replacements that are available over the counter are also very popular among those who are trying to quit smoking. For example, you can find lozenges, gum, patches, inhalers and most recently, electronic cigarettes, all of which are intended to help people on their journey to giving up cigarettes.
It isn't just in countries like the UK where smoking cessation finds a big market, either. It is thought that countries in Asia could also be a potential source of success for the industry, as the continent has around half of the smokers in the world. Progress has been slow in countries such as China though because government intervention is limited and awareness of smoking-related dangers is not as high as it is elsewhere in the world.
Despite these challenges, the smoking cessation industry is still doing well and it remains a growth area as more people aim to quit cigarettes. In the US and Europe, the population of smokers is in decline thanks to legislation and other initiatives. Smoking is still a big, troubling issue though, so we definitely can't be complacent just yet.