If you have not received your item please review the information below.
There is a separate page of information for tracking international deliveries.
Royal Mail UK deliveries
Medicine from Dr Fox is sent Royal Mail 24 Signed For (1st class recorded delivery) requiring a signature on receipt (by someone aged over 18) for UK orders. If no-one is available to sign for the delivery the postman/woman will leave a postal note with instructions on how to pick-up the parcel from your neighbours, a local post office depot, or to arrange a re-delivery for another day. After 18 days any undelivered items will be returned to our pharmacy – we will then attempt to contact you to either arrange re-delivery or offer a full refund.
Parcel tracking
When an item is despatched a tracking number will be emailed to you – to help you find this email the subject line of the email contains your order number and the words "has been dispatched" and is sent from the email address Dr Fox <noreply@doctorfox.co.uk>. The tracking number is also available to view in the details of the order in your My Account section.
The parcel tracking information will only update once a delivery has been attempted – until then the only information showing will be:
Latest update: Information on your Royal Mail Signed For™ item is not yet available.
If this message remains 10 days after posting your item please contact us – we will declare the parcel lost in the post and offer a re-delivery or full refund, whichever is preferred. We experience about 1% of deliveries lost by Royal Mail (approximately 1–2 orders per day) which is disappointing and for which we apologise.
After delivery has been attempted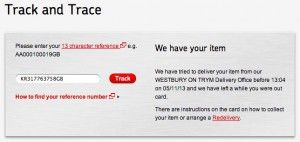 Once delivery has been attempted the following information will be shown:
Parcel received
Details of date of receipt, plus name and digital signature of recipient will be shown (electronic proof of delivery), along with details of the local delivery office. In some cases the electronic proof of delivery may not be immediately available.
No-one present to receive the parcel
Details of the date and time of attempted delivery, where the parcel was left (neighbours), local depot details, and information on how to collect or arrange redelivery. If you choose to collect from your local depot please bring proof of identification and address, and the 'something for you' postal card.
Returned to sender
After 18 days at a local depot waiting for collection, or if Royal Mail cannot find your address to leave a 'something for you' card, the item will be returned to the pharmacy.
No postal card left?
Sometimes Royal Mail fail to leave a 'something for you' postal card as they should do. You can still arrange a redelivery online using the Track and Trace information (your name, address, date of attempted delivery, and parcel tracking number).
Reposting and refunds
If you have not received your parcel we are extremely sorry for the inconvenience, and would like to assure you that we will always replace or offer a full refund in cases where this happens. Refunds usually take 1-5 business days to appear back in your bank account.
Further information