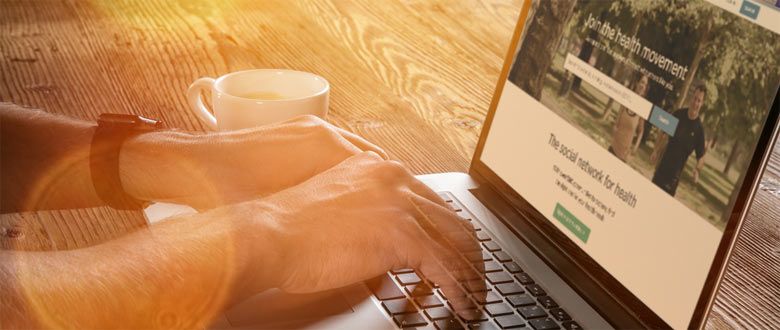 Which websites do you tend to hang out on? Chances are you often find yourself jumping from one social media site to the next – a recent report states that Britons spend an average of about 1 hour and 20 minutes on social media networks per day, which accounts for a significant percentage of the time we spend online as a whole.
Whether on your laptop, desktop, tablet or mobile phone, as you scroll through your feed you often see health-related posts. People post updates on their weight loss journey, their battle with an illness, or even ask their friends and followers questions about a health condition.
But the normal venues may not be the most relevant outlets for health-related conditions. You may want to migrate over to a health-focused social network to get specific answers to your questions and support from others experiencing the same health issues.
HealthUnlocked
This network aims to inspire millions of users to connect with others with similar health histories. Here people can disclose, discuss and essentially face health concerns together. It offers a peer-to-peer support network not only for patients experiencing the conditions, but for care givers and advocates as well. As the website states, "because our communities are set up by leading health organisations people have access to credible support." The NHS, for example, has a weight loss forum on HealthUnlocked which can be found here.
MedHelp
MedHelp is a results-orientated platform with a range of apps available to monitor health-related journeys ranging from pregnancy to diet, and sugar levels for diabetics. It offers trackers for addiction, blood pressure, asthma and more, as well as calculators for things like calories burned and body mass index. There are also many communities that users can join in order to communicate with others who are experiencing the same health conditions or have similar goals, boasting an extensive network with "the largest, most vibrant online health community, where thousands of conversations on 300+ conditions take place daily."
PatientsLikeMe
Committed to putting patient health first, PatientsLikeMe provides "a better, more effective way for you to share your real-world health experiences in order to help yourself, other patients like you and organizations that focus on your conditions." It is a health and data-sharing platform that allows patients to share their own experiences and learn from others, in order to gather health data and find out about the real outcomes of health treatments from other patients. The platform contains in-depth sections for disease treatments (including prescription drugs, procedures and complementary/alternative medicines), and the latest research on various conditions.
With different options to appeal to a broad range of patients, these sites run the gambit from helping with simpler health issues such as monitoring a normal pregnancy, to keeping up with the latest research on diseases like multiple sclerosis, in which patients and caregivers continuously await updates from the medical community.
They also help people remain accountable and forge connections with others when trying to reach certain goals, such as lowering cholesterol or shedding significant amounts of weight. Psychologist Sherry Pagoto states that many weight loss patients have "few supports in their current social network for their weight loss journey." This is all the more reason to join specific online weight-loss communities to gain social support.
There may also be times when people suffering from a particular illness do not wish to burden those around them with their fears about their condition, but can vent their emotions within the safety of an online forum. These reasons and more make health-related social networks an excellent addition to the way we manage our wellbeing.