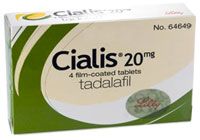 What is Cialis?
Cialis (also known as tadalafil for its active ingredient) was initially developed as a drug to help relieve the symptoms of an enlarged prostate (weak flow or frequent urination) by relaxing the smooth muscle in the prostate and the bladder. It also helps promote blood flow to the penis resulting in erections.
Why Cialis?
The main difference between Cialis and other erectile dysfunction treatments is in its half-life. The duration of the effect of Cialis is longer than with other medications. Viagra (sildenafil) lasts for about four hours, whilst Levitra's (vardenafil) effect lasts for about twelve. The effects of Cialis can last for up to 36 hours. It is important to note that the erection will not be instantaneous nor constant during this 36-hour period. Medication requires up to an hour to take effect and arousal and sexual stimulation are still required to achieve an erection. This longer duration of effectiveness has led Cialis to be labelled the 'weekend drug'.
Cialis is also known to help with symptoms related to an enlarged prostate. Its dual effect is one of the characteristics that set it apart from other ED treatments. The longer effect of the pill allows for it to be taken either thirty minutes before sexual activity or once a day. It also adapts to a patient's needs as it comes in several different presentations (2.5mg, 5mg, 10mg and 20mg). Consult a doctor before starting treatment with Cialis to determine which dose and presentation is right for you.
Keep in mind that Cialis should not be taken for recreational purposes and should always be used under the supervision of a physician. It is only useful to men who have erectile dysfunction.
The patent for Cialis expired November 2017 and lower cost generic Tadalafil is now available.
Are there any side effects?
Because Cialis widens blood vessels in order to achieve the blood flow required for an erection it can cause side effects such as blurry vision and minor headaches. However these effects should only last a few hours and do not usually present a serious health risk. In a very small percentage of cases ED medication can cause priapism. This consists of a constant and painful erection. If your erection lasts more than four hours consult a doctor immediately or seek emergency medical help.
Any contraindications?
If you are currently taking nitrates to treat angina or any other heart condition, Cialis should not be taken alongside it. By the same token if you regularly consume amyl nitrate, an illegal recreational drug commonly known as "poppers", Cialis can have an adverse and harmful effect. If you are already on treatment for ED with another medication such as Sildenafil, speak to your doctor if you are interested in switching to Cialis. It should not be taken in combination with any other medication for erectile dysfunction.
Whilst Cialis can be used to treat prostate related problems, it should also not be used with alpha blocking medications, which are another common treatment for prostate illnesses.
Cialis is only one form of treatment for ED. If you suffer from this condition there are ways to overcome it – the first step towards finding the solution is to pay a visit to your general practitioner.