Propecia is a prescription only medicine. This means in the UK Propecia tablets are not available without a prescription.
Dr Fox supplies Propecia tablets on prescription. The price shown on the Dr Fox website for Propecia includes the price of the prescription. Most pharmacy websites supplying genuine Propecia require customers to provide their own private prescription. The prescription is likely to cost between £10.00 to £25.00 per prescription.
Prices and how to order
Propecia tablets on the NHS
Propecia is not available on the NHS. This is because Propecia is a treatment for male pattern hair loss. This treatment is considered by the NHS to be cosmetic. The NHS will not pay for treatments considered cosmetic or recreational.
Cost of Propecia tablets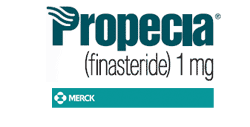 Propecia tablets (Finasteride 1mg) are expensive. Only one drug company produces genuine Propecia. This company, Merck, also known as MSD, did the research and development on the drug which is still under 'patent'. Anywhere offering cheap Propecia tablets will be selling fake tablets which are likely to be ineffective or even dangerous.
How effective is Propecia
Propecia taken daily will prevent continuing hair loss and promote re-growth of hair in most men with typical male pattern hair loss. 9 out of 10 men taking propecia have the same amount of hair or more hair at the end of 12 months of treatment. This compares with 4 out of 10 taking a dummy tablet (placebo).
The improvement in the amount of hair continues for at least 5 years when propecia treatment is continued.
Propecia is ineffective in women and should NOT be taken by women in whom it may be a danger particularly in pregnancy and when breast feeding.
Propecia side effects
Most men taking Propecia tablets experience no side effects and take propecia without problems.
In studies over a 12 month period less than 2% of men stopped taking Propecia because of side effects. In the same study slightly more than 2% of men stopped taking placebo (dummy tablets).
Side effects reported included loss of libido, erectile dysfunction and reduced volume of ejaculate (sperm). One or more of these symptoms affect about 4 in 100 men taking propecia compared with 2 in 100 for men taking a dummy tablet. The incidence of these side effects reduces after the first 12 months. Less than 1% of men stop taking Propecia because of these side effects.
Propecia does not reduce fertility.
Alternatives to Propecia tablets
The only other hair loss treatments of proven value are topical preparations (scalp solution or gel) containing minoxidl. Minoxidil topical is sold in the UK under the name Regaine. This is available from pharmacies and also online on prescription. It is sometimes cheaper on prescription.
Alternatively there are surgical procedures which transfer plugs of hair from one area of the scalp to another. These transplants can be effective, although they tend to be expensive, time consuming and sometimes painful.