Combined pill
Combined contraceptive pill (oestrogen and progestogen) to prevent pregnancy from £10.60.
Start order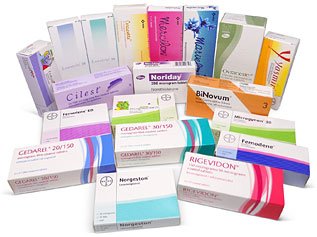 Brands of combined pill available
---
About combined contraceptive pills
The combined oral contraceptive pill, also known as The Pill contains the female hormones oestrogen and progesterone, in artificial form.
Combined pills are usually taken for contraception, but can also treat heavy or painful periods, and PMS (premenstrual syndrome) and endometriosis.
The combined pill prevents pregnancy in 3 ways; preventing ovaries from releasing eggs (ovulating), reducing the chances of sperm reaching eggs, and reducing the chances of fertilised eggs implanting in the womb.
Features of the combined pill
It is 99% effective in preventing pregnancy, if taken correctly. Only one woman in 100 taking the combined pill will become pregnant each year.
One pill is taken daily for 21 days, followed by a break of 7 days, before restarting. A menstrual bleed normally takes place in the 7 day break.
ED (extra day) pills come in packs of 28 tablets. 7 tablets in the packs contain no active ingredients. These non-active pills are included to make up the 7 day break as some women may find it easier to not break the routine of taking a daily pill.
The pill is best taken at the same time each day, and may not work if pills are missed or vomited or in severe diarrhoea.
Some women on the combined pill experience mood swings, breast tenderness and headaches. See individual patient information leaflets for details of side effects.
The combined pill is not normally prescribed for women over 35 who smoke, because of the increased thrombosis risk.
Women taking contraception should have a pill check-up with their surgery GP or nurse, usually 6 monthly.
It is important that cervical smears are up-to-date.
Women who are at risk of sexually transmitted diseases should use condoms in addition to their pills.
Choice of pill
There are numerous different brands of combined pills available from different pharmaceutical companies, with differing amounts and types of oestrogen and progesterone. Some pills will contain the same ingredient in every pill (monophasic 21 day pills), others have varying combinations of oestrogen and progesterone through the cycle of 21 pills.
Women, working together with doctors or specialist contraceptive nurses, can usually find a pill which suits them. Dr Fox provides only continuation of existing contraception, not first time contraception or changes to existing contraception.
How to take combined pills
Advice about how to take the pill is usually given by doctor or nurse who first prescribed it. Information can also be found in the patient information leaflet supplied with each pill pack. Most women can start the pill at any time in their cycle, although additional contraception in the first days may be required, depending on where in the cycle the pill was started. Your doctor or specialist nurse can advise. There is also further information at NHS Choices: Contraception guide - Combined pill.
Taking pill packs without a break
Occasionally doctors may advise women to take combined pills without a 7 day pill-free break. This is often done for two or more cycles, and is particularly useful to delay the onset of a period, for example when a woman is planning a holiday. It may also be useful for women who have painful periods. Taking pills without a break should only be done under medical supervision, as it can lead to breakthrough bleeding and some women experience bloating and other side effects.
Missed a pill
If pills are missed, there is an increased risk of pregnancy. The rules about what to do when a pill is missed are complicated. What to do depends on how many pills are missed and where in the cycle. Details can be found at NHS Choices: Contraception guide - Combined pill and our article Missed a Pill? Here's what to do. You can also call NHS 111 or the Sexual Health Line on 0300 123 7123.
If vomiting occurs within two hours, take another pill and the next pill at your usual time.
Is the combined pill suitable?
Dr Fox supplies only 3 months of the oral contraceptive pill at a time, and only to those 18 years to 55 years who already take it.
Most women, who do not smoke, can take the combined pill right up to the menopause. However, not all women take it and regular reviews of contraception are required.
Women who have had a baby and are not breast feeding can start the pill after 21 days. Women who are breast feeding do not normally require contraception, as they are unlikely to become pregnant. Breast feeding has a contraceptive effect, and taking the pill will reduce the flow of milk. The pill can be started 5 days after a miscarriage or abortion.
Some medicines interact with the combined pill and may alter its effectiveness. The rarely prescribed antibiotics rifampicin and rifabutin can make the pill ineffective and stronger pills may be required. Most other antibiotics have a minimal effect, but discuss with a doctor of pharmacist.
The combined pill could possibly very slightly increase the risks of some cancers and reduce the risk of others, more details at NHS Choices: Contraception guide - combined pill
The pill can slightly increase the chance of blood clots, particularly in women who have other risk factors. Checks on suitability will be carried out when the pill is first prescribed at pill checks.
Under 16s requiring contraception should see a doctor or nurse, and this can be without parents being informed, as long there is good understanding and the young person is not vulnerable and in need of protection. More information at the Sexual Health Line on 0300 123 7123.
Start order
---
The order process
Answer short medical questionnaire
Choose treatment, register, and pay
Doctor issues prescription online
Medicine posted direct from pharmacy
---
Customer reviews
"I have been useing Dr fox for a few years, never had a problem delivery is fast and the best prices iv see on the Internet. I can't recommend highly enough."20 November 2017 – Kevin P., Stoke on Trent
"The medicine I got at Dr Fox including the doctors online receipt and the post fee roundabout 30 less than in Germany. The box came 5 days after my order. Great deal, great service."12 November 2017 – Simon M., Teisendorf
"Very easy to use web site,good description of goods excellen, price compared to high street price, very fast delivery.Will not hesitate to use again"27 October 2017 – Gordon R., Worksop
"The case was handled professionally and the delivery was quick. The product exactly as requested, highly recommended"24 October 2017 – Maciej M., London
"Dr. Fox is the perfect solution for my ED. Great service and pricing."10 October 2017 – John B., Germany
"Absolutely fantasic. Excellent & prompt service all round including communication. Will definitely use Dr Fox again in the future. Many thanks"03 October 2017 – Denise B., London
"Excellent tablets which work very well with no adverse effects. I have now been using these for around a year. Discreet packaging, speedy delivery and excellent pricing make Dr Fox my first choice every time."25 September 2017 – Dave B., Edinburgh
"As always, a secure, confidential, and ultra efficient service from the Dr Fox team, well done, and thanks."22 September 2017 – A. C., Stirlingshire
"Excellent, speedy and professional service. I have used Dr Fox over two years and have found online ordering and delivery to be faultless."03 September 2017 – Stephen C., Aberdeen
"Ordered one day ,there the next day. The website is easy to use and you do not have to keep filling in the same things, time after time. I also feel safe as the doctors continue to review you. Good price good product."01 September 2017 – Terry M., Warwickshire
"All round first class from the Doctor to delivery, continual updates from the customers services and feeling that DR fox cares about his patients/ customers. I have recommended Dr Fox to my friends"30 August 2017 – Peter P., Crawley
"Great service. Ordered my goods and received them very quickly with no problems at all. Will definitely use your services again and I will be recommending yourselves to many people."17 July 2017 – Keely D., Luton
"I have always found their customer service to be good, their prices to be competitive and delivery to be fast."20 June 2017 – Anonymous
"Repeat prescriptions are easy to order. Log into your account (previously set up with initial order) 5'S I have dealt with customer services directly previously. Cannot fault them"12 June 2017 – Col H., Co Northampton