Travel sickness
Anti travel sickness tablets and patches on prescription to remedy motion sickness available to buy online from Dr Fox.
Read medical information and answer medical questions to buy treatment online.
Selecting treatment
All medicine supplied is UK licensed.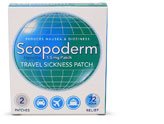 2-10 patches from £17.20
Buy treatment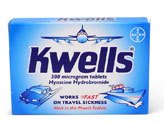 12-36 tablets from £6.90
Buy treatment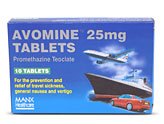 10-28 tablets from £6.20
Buy treatment
Prices
| Travel sickness treatment | Quantity | Cost |
| --- | --- | --- |
| Kwells 0.3mg hyoscine | 12 tablets | £6.90 |
| Kwells 0.3mg hyoscine | 24 tablets | £9.60 |
| Kwells 0.3mg hyoscine | 36 tablets | £13.40 |
| Avomine 25mg (promethazine) | 10 tablets | £6.20 |
| Avomine 25mg (promethazine) | 20 tablets | £8.30 |
| Avomine 25mg (Promethazine) | 28 tablets | £10.55 |
| Scopoderm Patches hyoscine 1mg/72hrs | 2 patches (3 days each) | £17.20 |
| Scopoderm Patches hyoscine 1mg/72hrs | 4 patches (3 days each) | £33.00 |
| Scopoderm Patches hyoscine 1mg/72hrs | 10 patches (3 days each) | £73.90 |

Price match guarantee
Prescription issued online - small prescription fee per order.
Prescription fees
Dr Fox supplies medicine on prescription and charges a small prescription fee based on the order value of each prescription.
Prescriptions are issued by our doctors online and sent electronically to our pharmacy.
If you have your own private or NHS paper prescription please post to our pharmacy (details).
Dr Fox prices are 25%–50% lower than other UK online clinics.
| Order value | Prescription fee |
| --- | --- |
| up to £10 | £1.00 |
| up to £20 | £2.00 |
| up to £40 | £3.00 |
| over £40 | £4.00 |
Delivery charges
UK delivery only: £2.90 per consultation via Royal Mail 24 Signed For (1-3 working days with tracking).
Parcel forwarding services are not permitted. Use only UK home or work delivery address.
Returns and refunds - unwanted items can be returned within 14 working days for a full refund.
Medical information
Written and reviewed by a team of doctors. Dr Fox is regulated by the CQC, GPhC, & MHRA.
General background information on travel sickness below.
There are two widely used travel sickness medications: hyoscine, also known as scopolamine, (Scopoderm and Kwells) is generally considered to be a little more effective than promethazine (Avomine). Promethazine is less sedative and therefore may suit some people better.
How to take
Take tablets or apply patch before a journey, or at the onset of symptoms. For long journeys Avomine tablets can be started at bedtime on the night before travel.
Scopoderm (hyoscine 1.5mg): self-adhesive patches active for 3 days (72 hours).
Kwells tablets (hyoscine 0.3mg): 1-2 tablets 30 minutes before journey, repeated 6 hourly as needed.
Avomine tablets (promethazine 25mg): 1 tablet at bedtime on night before travel or 1-2 hours before travel, then one 6 hourly as needed.
Cautions
Anti-sickness medication may cause drowsiness. If effected do not drive or operate machinery. Not suitable for people with glaucoma, trouble with bladder or bowel obstruction, people taking drugs such as tranquillisers or anti-depressants or in pregnancy. Avoid alcohol if taking Avomine.
Side effects
Possible side effects include, drowsiness, dizziness, restlessness, headaches, disorientation, photosensitivity, visual disturbance, pupillary dilatation, dry mouth, and local irritation (with patch).
Other uses of Avomine
In addition to preventing travel sickness, Avomine can also be used to treat:
Nausea and vomiting due to other causes, including gastro-enteritis
Vestibular disturbance
Drug intolerance
Migraines
Infectious diseases
Radiotherapy
Detailed information
For more detailed information about each medication see the patient information leaflet links below (important if you have serious medical disorders or take regular medicine).
Buy treatment
Dr Fox supplies travel sickness treatment on prescription – you are required to answer a short medical questionnaire before your order can be completed.
---
Travel sickness – general information
Travel sickness treatments work by damping down the confusion in the brain that occurs when motion tells the brain one thing and vision tells it another.
Anti-sickness treatment works best when taken before the nausea starts, although can be taken after the onset, when it will still help to reduce nausea.
Driving caution
In some people anti-sickness tablets have the side effect of tiredness. You should not drive or operate machinery whilst taking anti-sickness tablets unless you have experience of them and know they do not affect your alertness.
Reduce travel sickness
Some forms of motion are more likely to cause travel sickness than others. More people get seasickness than car or plane sick. Sitting in the back of a car tends to be worse than the front.
Sit near the wing of a plane or the centre of a boat
Where possible sit near an open window
Close your eyes, or better still try to sleep
Avoid reading or looking at screens (some disagree)
Fix the eyes on distant objects rather than nearby moving objects such as waves or other cars
Avoid alcohol or heavy meals, particularly greasy or spicy food that might sit on the stomach
Take breaks in a journey when you can if you are feeling sick

Authored 18 February 2010 by Dr Tony Steele
Last updated 3 March 2020
questions
Choose
order
Answer medical questions to order
(travel sickness)
---
The order process
Answer short medical questionnaire
Choose medication, register, and pay
Doctor issues prescription online
Pharmacy team post medication direct
---
Recent reviews
"Excellent service and price"09 August 2020 – Anonymous
"Products delivered discreetly and promptly. Excellent service"09 August 2020 – Anonymous
"I am so impressed. Good straight forward website. Loads of information. I like that they use the Post Office tracked delivery service. I ordered a product, it was delivered quickly in plain packaging, It was an excellent price compared to the high street chemists. I will definitely use them again. Unhesitatingly recommend."09 August 2020 – Derek S., Manchester
"Well communicated , good service , fair price ...."09 August 2020 – Anonymous
"These guys work great I get my medicine delieverd on time thanks to all you guys."09 August 2020 – Razz A., Bradford West Yorkshire
"Very professional service"09 August 2020 – Anonymous
"Delivery very quick and discreet as promised. Very pleased with product and will most definitely order again"09 August 2020 – Dink D., Northampton
"Great service"09 August 2020 – Anonymous
"Quick and easy process."09 August 2020 – Anonymous
"I have been using this service for about 7 years. Completely reliable and professional,I hav3 no hesitation in r3commending th3m."09 August 2020 – Anonymous
"Great service, fast shipping, especially when I need my medicines quickly. A+"09 August 2020 – Anonymous