Salbutamol inhalers
Ventolin and Salamol salbutamol inhalers for asthma available to buy online from Dr Fox.
Read medical information and answer medical questions to buy treatment online.
Selecting treatment
All medicine supplied is UK licensed.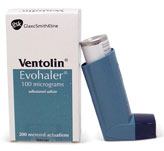 1 inhaler £8.50
Buy treatment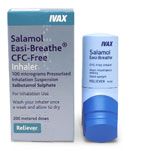 1 inhaler £15.80
Buy treatment
Prices
Prices of asthma inhalers from Dr Fox

| Salbutamol inhaler | Quantity | Cost |
| --- | --- | --- |
| Ventolin Evohaler | 1 metered aerosol inhaler | £8.50 |
| Salamol Easi-Breathe | 1 breath actuated inhaler | £15.80 |

Price match guarantee
Prescription issued online - small prescription fee per order.
Prescription fees
Dr Fox supplies medicine on prescription and charges a small prescription fee based on the order value of each prescription.
Prescriptions are issued by our doctors online and sent electronically to our pharmacy.
| Order value | Prescription fee |
| --- | --- |
| up to £10 | £1.00 |
| up to £20 | £2.00 |
| up to £40 | £3.00 |
| over £40 | £4.00 |
If you have your own private or NHS paper prescription please post to our pharmacy (details).
Dr Fox prices are 25%–50% lower than other UK online clinics.
Delivery charges
UK delivery only: £2.90 per consultation via Royal Mail 24 Signed For (1-3 working days with tracking).
Parcel forwarding services are not permitted. Use only UK home or work delivery address.
Returns and refunds - unwanted items can be returned within 14 working days for a full refund.
Medical information
Written and reviewed by a team of doctors. Dr Fox is regulated by the CQC & GPhC.
If you already use a salbutamol inhaler (blue inhaler), we may be able to supply you with a repeat inhaler online.
This service does not replace your doctor's surgery. Regular asthma clinic check-ups with a doctor or nurse are required every year, or sometimes more frequently.
We do NOT supply steroid inhalers or other asthma medicines, only salbutamol inhalers.
Salbutamol brand names
Salbutamol inhalers (blue inhalers/relievers) are made by different drug companies under different brand names. All the following brands are 'salbutamol inhalers'. They are all the same strength.
Ventolin Evohaler, Ventolin Accuhaler, Salamol Easi-Breathe, Airomir Autohaler, Airomir Aerosol inhalation, Asmasal Clickhaler, Salbulin Novolizer Salamol and Salbumalin, salbutamol Easyhaler Salbutamol, and Pulvinal.
Inhalers available from Dr Fox
Dr Fox supplies two different sorts of salbutamol inhalers. You should select the sort of salbutamol inhaler you are familiar with at the end of the consultation, either a 'metered aerosol' or 'breath actuated' inhaler.
Ventolin Evohaler
Ventolin Evohaler is a 'metered aerosol' and delivers 100mcg of salbutamol per puff when the end of the inhaler is pushed down.
Ventolin Evohaler Patient Leaflet
Salamol Easi-Breathe
Salamol Easi-Breathe is a 'breath actuated' inhaler releases 100mcg salbutamol per puff triggered by a sucking action on the mouth piece of the inhaler.
Salamol Easi-breathe Patient Leaflet
A third type of inhaler, which comes in different strengths, delivers salbutamol to the lungs as fine inhaled powder. We do NOT supply this type of salbutamol inhaler.
Eligibility for online supply
We supply salbutamol inhalers only if patients:
Have used salbutamol inhalers before
Have had an asthma/breathing check with a doctor or nurse within past 12 months
Have no recent worsening in breathing symptoms
Limits on supply
Our doctors usually allow only an average of one inhaler to be ordered per month. If you order more frequently you will need to provide extra information to our doctors. Full refunds are given if doctors decline a request for an inhaler.
Patients who require more than one inhaler per month may need alternative or additional treatments, possibly inhaled steroids or other medicines, including tablets, which Dr Fox does not supply.
Patients are required to provide their GP details. Dr Fox will inform the surgery of supply of treatment.
If we cannot supply your inhaler, it does NOT mean you do not need one.
Inhaler technique – how to use
Salbutamol is effective only if it is inhaled into the lungs where it is active. Inhaler technique (how to use an inhaler) is usually explained in asthma clinics. See also demonstration videos for metered aerosol and breath actuated, and the 'patient information leaflets' supplied with inhalers.
Cautions
Asthma must be treated with respect. Relief of symptoms usually starts within a few minutes of using a salbutamol inhaler and normally lasts for at least 4 hours, then the effects wear off. If inhalers alone are not working there are other treatments.
You should seek urgent medical help if:
You need to use your salbutamol more than 4 times daily.
Your inhaler relieves symptoms for less than 4 hours.
Your breathing is getting worse, despite using treatment.
You get chest pains or increasing tightness in the chest after using your inhaler.
You are advised to have an early check-up with a nurse or doctor if:
You need to use your salbutamol inhaler more than 2 or 3 times a week.
You are having ongoing breathing symptoms such as a cough at night, uncontrolled shortness of breath, or worsening breathing symptoms.
Ventolin Evohaler and Salamol Easi-Breathe are both prescription only medicine – our doctors will issue the prescription online direct to our pharmacy.
About salbutamol
Inhaled salbutamol opens up air passages and relieves chest tightness. Its effects start within minutes and last up to 6 hours. Salbutamol is used to treat asthma and other breathing problems and is the single most widely prescribed asthma medicine. Salbutamol can be used on its own or more commonly in combination with other inhalers and tablets. If asthma is well controlled salbutamol is usually only needed occasionally as rescue treatment to deal with a flare up of symptoms.
About asthma treatment
The chest tightness and coughing in asthma is caused by narrowing and inflammation of the air passages in the lungs.
Asthma symptoms tend to come and go. A flare up of symptoms may be triggered by a virus infection, a reaction or allergy, or stress or even vigorous exercise. Every person's asthma/breathing problems are different.
Mild occasional symptoms are usually treated with salbutamol inhalers (relievers). More severe symptoms require the addition of inhalers containing steroids (preventers). Steroid inhalers reduce inflammation in the lungs. The dose of inhaled steroids can be increased and decreased as required. Some people only need to use steroids from time to time when their breathing problems flare up.
If salbutamol inhalers and steroid inhalers together are not enough, there are other inhalers and medicines which can be added. These include prednisolone tablets and long acting reliever inhalers.
Buy treatment
Dr Fox supplies salbutamol inhalers on prescription – you are required to answer a short medical questionnaire before your order can be completed.

Authored 18 April 2013 by Dr Tony Steele
Last updated 15 October 2021
questions
Choose
order
Answer medical questions to order
(asthma)
---
The order process
Answer short medical questionnaire
Choose medication, register, and pay
Doctor issues prescription online
Pharmacy team post medication direct
---
Recent reviews
"Very good."20 October 2021 – Anonymous
"Very efficient service in these Covid times"20 October 2021 – Anonymous
"Re order & as usual prompt & excellent service."20 October 2021 – Anonymous
"Thank you for your help,very much appreciated."20 October 2021 – Anonymous
"Fast delivery completely priced"20 October 2021 – Anonymous
"Easy to order, good price and fast delivery."20 October 2021 – Anonymous
"Efficient quick service as always!"20 October 2021 – Ken M., Edinburgh
"Superb and professional"20 October 2021 – Anonymous
"I got what I ordered and delivered on time"20 October 2021 – Anonymous
"A great company to deal with, can't fault them."20 October 2021 – Anonymous
"Everything they said they did, faultless"20 October 2021 – Anonymous