Malarone is a drug that is taken to prevent malaria in some areas of the world, notably those where chloroquine is not an option due to resistance. It is a relatively new drug and is still under patent, which means that if you want to take this drug, it needs to be purchased from the pharmaceutical company.
Malarone is a prescription medicine, however; because anti-malaria drugs are usually taken by people for holidays and travel, Malarone supply is usually not funded through the NHS. It is worth looking around for the best deals on this drug, particularly as many people looking to get a prescription for anti-malaria tablets such as Malarone often go to private healthcare providers. These providers can be expensive because of extra fees and charges added to the cost.
Online prescriptions for Malarone
People have started to look for online prescriptions for Malarone, as this can often be more cost effective than going to a pharmacy. However, if you are going to buy Malarone online, it is important that you do so from a reputable source. You need to be certain you obtain the right anti-malaria tablet for you and the area you are visiting. You will need to take part in an online consultation before anti-malaria tablets can be prescribed. You should make sure you complete this consultation carefully and seek advice if you need it, as getting the wrong type of malaria tablet for the area you are visiting can leave you with an ineffective medicine.
Also, another reason it is important to be certain you are using a reputable provider for Malarone is because you need to be absolutely sure you are getting the genuine product. A good online provider will always be upfront about things; in particular, you should be wary if a provider describes their Malarone as cheap – more often than not, it is likely to be a fake and so should be avoided at all costs. As you can currently only get Malarone from its developing pharmaceutical company, anyone else claiming to manufacture it is not telling the truth.
Update May 2013: GlaxoSmithKline (GSK) lost its exclusive patent on Malarone in the UK In February. Malarone equivalent tablets are now available legally in the UK under the medical name atovaquone/proguanil.
How to buy Malarone safely online in the UK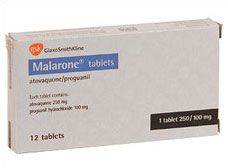 If you are hoping to get a Malarone prescription through an online consultation, you should also look for providers that are registered with the General Medical Council and the Quality Care Commission. They should also be a registered online pharmacy and be a member of the Royal Pharmaceutical Society of Great Britain, as well as providing all of their contact details in an easy-to-access location on their website. This helps to let you know that they are a valid source of online prescriptions and adhere to the professional standards laid out by these bodies.
Overall, buying Malarone online can be the cheapest way to obtain it – you just need to be certain that you are buying the right product from the right place and, if in doubt, always seek professional advice to make extra sure.