Chlamydia
Chlamydia is the most common sexually transmitted disease in the UK. Dr Fox provides confidential chlamydia test and doxycycline antibiotic for chlamydia.
Chlamydia test and treatments
---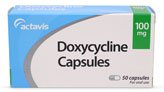 14 capsules (2 per day for 1 week): £6.50
Start order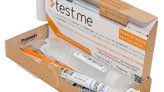 Sample kit, SAE, testing & result: £17.99
More
---
Chlamydia is the UK's most common STD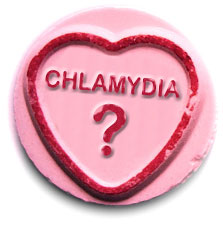 Chlamydia is the most common sexually transmitted disease in the UK. It can cause infertility in women. Half of men and most (75%) of women with chlamydia have no symptoms.
Confidential chlamydia self-testing
Sexually active people should test every year and when they have a new partner.
Order a chlamydia test kit through the post.
Post the sample to the lab in the envelope provided.
A few days later the result is posted, or emailed back to you.
---
Antibiotic chlamydia treatment
Chlamydia is treated with doxycycline 100mg antibiotic taken twice a day for one week.
Side effects
Serious side effects are unusual, most common are stomach upset, nausea and diarrhoea. For further details please read the doxycycline patient information leaflet.
Cautions
Men who have a thick or bloody discharge from the penis with soreness or inflammation, or women with heavy offensive vaginal discharge or irregular bleeding and low abdominal pain should see their regular doctor. Discharge is mucus like fluid coming from the end of the penis, vagina, or anus.
Alternative treatment
People under 25 can arrange a test via the National Chlamydia Screening Program. GPs, genito-urinary medicine clinics and some walk-in centres can provide tests and treatment.
---
Chlamydia symptoms
Half of men and the majority of women have no symptoms. Chlamydia infection can cause inflammation in the penis, vagina, womb, tubes, anus and mouth and even eyes.
Women
Unusual vaginal bleeding
Bleeding between periods
Bleeding after sex
Heavier periods
Pain (and/or bleeding) during sex
Lower abdominal (pelvic) pain
Men
A white/cloudy or watery discharge from the penis
Burning and itching in the genital area
Pain when passing urine
Painful swelling of the testicles
Both men and women
If the infection is in the rectum there are rarely any symptoms although there can sometimes be discomfort and discharges.
Infection in the eyes can cause pain swelling, irritation and discharge.
Infection in the throat isn't common and doesn't usually produce symptoms.
Chlamydia does not usually produce open sores or blisters. If these are present a GP should be consulted.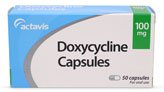 14 capsules (2 per day for 1 week): £6.50
Start order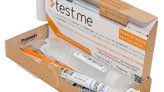 Sample kit, SAE, testing & result: £17.99
More
---
Last updated 18 June 2019
---
---
The order process
Answer short medical questionnaire
Choose treatment, register, and pay
Doctor issues prescription online
Medicine posted direct from pharmacy
---
Independent reviews
"So pleased to see that it is possible to order medication online. The consultation was very easily done and ... the goods arrived very quickly."05/10/2015 – Trusted Shops
"Very pleased with the service received. A lot of information provided about the products available makes an informed choice straightforward."05/10/2015 – Trusted Shops
"Very quick delivery, excellent service. I have recommended Dr Fox to others that are having the same problem."04/10/2015 – Trusted Shops
"Working early mornings until late hours there is no time to see a GP. This was quick and helpful."08/10/2015 – Trusted Shops
"Second time I have used Dr Fox I highly recommend this service."10/10/2015 – Trusted Shops
"Fast accurate and hassle free and good price too. Can't see how you can improve on that."02/10/2015 – Trusted Shops
"Product arrived a day earlier than expected and was exactly what I'd ordered. Will definitely use this site again."29/09/2015 – Trusted Shops
"Very quick service, keeping you updated at each stage. Will definitely use them again."30/09/2015 – Trusted Shops
"As usual excellent service but the option for next day delivery would be a good idea."07/10/2015 – Trusted Shops
"I have been using the service for around 8 months now and had very good service each time. Recommended."28/09/2015 – Trusted Shops