Treatments for travellers' diarrhoea
---
---
Travellers' diarrhoea: preparing for infection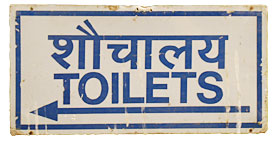 Travellers to North America, Europe, or Australasia do not require antibiotic for diarrhoea.
Self-treatment is suitable for travellers:
to remote rural areas distant from medical help.
with pre-existing bowel problems such as inflammatory bowel disease where infection may trigger a relapse.
with pre-existing medical conditions which may be worsened by severe infection or dehydration, i.e. poorly controlled diabetes, renal impairment etc.
with a tendency to severe travellers' diarrhoea (on the basis of previous travel experience).
Up to 60% of travellers from the West visiting resource-poor countries get travellers' diarrhoea. It usually starts within the first week of arrival.
As many as 5 million people from the UK suffer from travel diarrhoea each year.
Taking an antibiotic on a trip can reduce significantly the severity and duration of traveller's diarrhoea.
Standby treatment
A short course of the antibiotic ciprofloxacin or azithromycin together with the anti-diarrhoeal Loperamide is effective in treating traveller's diarrhoea. An anti-sickness tablet such as Avomine will also relieve symptoms and help to prevent dehydration. These standby treatments work best if taken as soon as diarrhoea starts.
Azithromycin is a slightly more effective antibiotic for the treatment of traveller's diarrhoea in South Asia (Bangladesh, Bhutan, India, the Maldives, Nepal, Pakistan, Sri Lanka) and South-East Asia (Vietnam, Laos, Cambodia, Thailand, Burma, Malaysia, Indonesia, Philippines). In other parts of the world ciprofloxacin is the preferred antibiotic.
Causes of diarrhoea
Travellers' diarrhoea is usually caused by ordinary bacteria the body is not used to. Other bacteria such as salmonella can also cause traveller's diarrhoea.
Travellers' diarrhoea usually lasts 2 to 4 days during which time people are often bed bound. In a few cases traveller's diarrhoea can lead to serious illness and even long term bowel problems.
Seeking help
People with serious medical conditions and a history of bowel disease should seek medical help if they get severe diarrhoea. If there is blood and mucus in the diarrhoea, or diarrhoea and vomiting continues for more than 2 days, or there is high fever and severe abdominal pain, or a rash, then medical help is required.
Drink plenty
The biggest danger with diarrhoea is dehydration. People with diarrhoea should drink plenty of fluids (3-4 litres per day), even if they are continuing to vomit. All fluid except milk will help although specialised rehydration fluid is best.
Avoiding infections
Avoid street food or places that appear dirty
Drink bottled or boiled drinks
Fruit that can be peeled is safe
Avoid shellfish and salads
Be careful about hand washing
Sometimes ice cream and ice can be contaminated
Detailed information about travellers' diarrhoea from the NHS Fit for Travel website, and travellers' diarrhoea information sheet from Travel Health Pro.
---
Authored 22 March 2010
by Dr Tony Steele
Reviewed 08 December 2016 by Dr B. Babor, MB ChB
Last updated 25 September 2018
---
Treatments available
---
The order process
Answer short medical questionnaire
Choose treatment, register, and pay
Doctor issues prescription online
Medicine posted direct from pharmacy
---
Recent reviews
"Easy order fast delivery perfectly wrapped"10 Dec 2018 – Mr martin B., Twickenham
"Thank you"09 Dec 2018 – Anonymous
"thanks many thanks and kind regards."09 Dec 2018 – Dana S., London
"First class service"09 Dec 2018 – Anonymous
"Thanks"09 Dec 2018 – dee d., Dublin
"Very satisfied"09 Dec 2018 – Anonymous
"Spedra product purchased is not fit for purpose."09 Dec 2018 – Anonymous
"excellent service, very straightforward and easy to use"09 Dec 2018 – Paul H., Shropshire
"Totally the best.I have never felt so respected in my whole life.Thank u"09 Dec 2018 – Gwynn C., milton keynes
"Great service"09 Dec 2018 – Anonymous