England's first match in the World Cup in Brazil is in Manaus, where malaria tablets are needed. Malaria is a serious, potentially fatal condition, and precautions must to be taken.
FIFA recommends supporters seek specialist advice 6-8 weeks prior to travel.
There is a significant risk of Malaria in the northern half of Brazil. Malaria tablets should be taken by people visiting areas marked dark pink/red on the map shown (click map for larger image). The map is taken from the NHS travel health website. Detailed information about the risks of catching malaria in particular areas of Brazil and with particular types of travel activity are provided below.
The recommended malaria tablets for Brazil, including Manaus, are Malarone (atovaquone/proguanil), or Doxycycline or Lariam (Mefloquine). No one type of malaria tablet works better than another. You only need to take one type of recommended tablet. The choice between malaria tablet depends on which best suits you. Information about choosing between one malaria tablet and another and about buying online can be found at the malaria page of the Dr Fox web site. Dr Fox also advises how to take malaria tablets and about possible side effects of tablets.
Other health advice for travellers to the World Cup and information about the location of the Brazil World Cup venues are listed below.
Taking Malaria tablets
Take the full course of malaria tablets prescribed, even if you are staying in a malaria area for just a few hours or days. Start the tablets at the recommended time before entering the risk area (from 2 days before to 10 days before, depending on the type of tablet) and finish the whole course after leaving the area (from 1 week to 4 weeks after, depending on tablet).
Malaria risk areas in Brazil
Correct as of 17 January 2014.
Within nine states of the Amazon region there is a risk of serious malaria present throughout the year in forested areas below 900m: Acre, Amape, Amazonas, Maranhao (western part), Mato Grosso (northern part), Para (except Belem City), Rondonia, Roraima and Tocantis (western part).
The spread of malaria is highest in mining, jungle and agricultural areas and in some adjoining urban areas of Manaus, Cruzeiro do sol and Porto Velho. Malaria also occurs on the edge of large cities such as Boa Vista, Maraba, Macapa, Rio Branco and Santarem.
There is usually only slight risk in the tourist resort of Iguazu Falls but those exploring outside the resort itself into rural or jungle areas, especially into Paraguay, should consider anti-malaria tablets.
There is a risk for those going on cruises up the Amazon, especially as boats enter populated parts of the rain forest where infected mosquitoes may be taken on board. Most cruises up the Amazon River end up/or start at the city of Manaus where there is a risk of malaria.
Risk is minimal in all states outside Amazonia including the populated eastern coast from Fortazela south to Rio de Janeiro and Sao Paulo.
High risk groups
Awareness of risk – risk depends on the specific location, season of travel, length of stay, activities and type of accommodation. Those at higher risk of malaria, or of severe complications from malaria, include pregnant women, infants and young children, the elderly, and those visiting friends and relatives.
Bite avoidance
The risk of malaria (and Dengue fever) can be greatly reduced by avoiding mosquito bites. Avoid mosquito bites by covering up with clothing such as long sleeves and long trousers especially after sunset, using insect repellents on exposed skin and, when necessary, sleeping under a mosquito net.
Malaria symptoms
No malaria tablet is 100% effective. If you have been travelling in a malaria area and develop a fever seek medical attention promptly. Remember malaria can develop even up to one year after exposure.
If travelling to high risk malaria areas, remote from medical facilities, carrying emergency malaria standby treatment may be considered. Which emergency treatment to carry, only a travel health specialist can advise.
World Cup venues in Brazil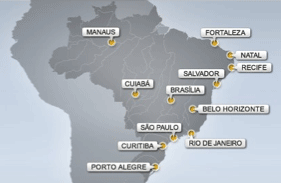 Most World Cup Venues in Brazil are not in areas of significant malaria risk, the exception being the Manaus, where England plays their first match. However, people visiting Brazil for the World Cup may well be taking trips in other parts of the country, including those areas listed above, where there is a significant risk and where malaria tablets are required, even if only a short time is being spent in malaria risk areas.
Venues
Estadio do Maracana, Rio de Janeiro, Brazil
Estadio Mineirao, Minas Gerais, Brazil
Estadio Mane Garrincha, Brasilia, Brazil
Arena Corinthians, Sao Paulo, Brazil
Castelao, Fortaleza, Brazil
Estadio Fonte Nova, Salvador, Brazil
Estadio Beira Rio, Porto Alegre, Brazil
Verdao, Cuiaba, Brazil
Arena Cidade da Copa, Recife, Brazil
Arena da Amazania, Manaus, Brazil – Malaria risk area
Arena das Dunas, Natal, Brazil
Arena da Baixada, Curitiba, Brazil
England's fixtures for the first stage are as follows:
| Date | Teams | Location |
| --- | --- | --- |
| 14 June 2014 | England v. Italy | Manaus |
| 19 June 2014 | Uruguay v. England | Sao Paulo |
| 24 June 2014 | Costa Rica v. England | Belo Horizonte |
Travel health advice for Brazil World Cup
Vaccinations – Brazil
Travellers should be up-to-date with standard UK vaccinations, including diphtheria, tetanus, typhoid and polio.
Ask your GP or travel clinic about additional vaccination. Courses or boosters are usually advised for Hepatitis A and Tetanus. Vaccination should be considered for Diphtheria, Hepatitis B, Rabies and Typhoid. A yellow fever vaccination certificate is NOT required for Brazil.
General travel health advice
Avoid excessive alcohol. Do NOT get sunburn. Take care over food hygiene. Take sufficient rest. Swim only in safe areas. Practice safe sex.
Detail about travel health medicine can be found at the International Society of Travel Medicine. Detailed information about Brazil can be found at NaTHNaC.
As well as malaria tablets, Dr Fox also provides treatment for travel sickness, jet lag and travellers' diarrhoea on prescription.
General travel advice – Brazil
Travel advice for Brazil and other South American countries can be found on the website of the UK Foreign & Commonwealth Office.
We hope you have an enjoyable, safe, victorious and malaria free Brazil World Cup.