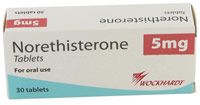 Dr Fox is an online pharmacy which is dedicated to providing the prescription drugs you need for a price that's 25-50% less than that of other online pharmacies. These reductions verified in our price comparison tables show our reduced prices on not just norethisterone, but on other treatments widely available from regulated online doctors.
As a fully regulated online clinic, we use only GMC registered doctors to review consultations and issue prescriptions – the treatments are despatched from our pharmacy in Glasgow; thus ensuring that all our products are sourced from reputable suppliers (UK pharmaceutical wholesalers) with a verified supply chain direct from the manufacturers.
We also provide information pages to give you further useful advice on how to combat whatever ailment you may have, ensuring you have every detail before you start a consultation. You can find everything you need to know about period delay here.
Genuine norethisterone
Utovlan tablets (norethisterone 5mg) are from a group of drugs called 'Progestogens.' Norethisterone is no longer under patent and may be produced by many pharmaceutical companies.
Side Effects of Norethisterone
Although the vast majority of people do not experience any negative effects using norethisterone, there are a few side effects to be aware of. Some of which are more common than others.
The less common side effects include: wheezing, rashes or feeling faint. However, there are more serious effects than can occasionally occur, in the event of which, you must stop taking the tablets and immediately contact your doctor. For instance, becoming short of breath or feeling an intense pain in your chest.
Moreover, it is good to be aware that although these tablets will help you to regulate your periods, you may still get instances of spotting between periods or miss a period altogether, which is perfectly normal.
How does Norethisterone work?
Utovlan tablets work by holding off your period for a certain duration of time (dependent upon how many tablets you take). The active ingredient found within these tablets – Norethisterone – works by regulating the growth and shedding of your womb lining, working in a similar way to how the hormone progesterone would naturally work.
It is a popular treatment for women who wish to delay their period for whatever reason. Normal dosage for delay of period onset is one 5mg tablet taken 3 times a day 4–5 days before your period is due, continuing for as long as needed. Dr Fox can supply enough tablets to delay your period for up to 17 days.
How effective is Norethisterone?
When used appropriately, in-line with medical advice, norethisterone is safe and effective for delaying periods.
However, Utovlan tablets shouldn't be used in conjunction with certain drugs. Not only will they compromise the effectiveness of this drug, they could damage your health. To see this list of drugs, click here for further information.
Low Cost Norethisterone
Being a prescription drug, Dr Fox cannot issue you with these tablets unless you have first undergone an online consultation. However, we do strive to ensure you get the best deal compared to other online clinics.