Malaria tablets
Buy malaria tablets from our online doctor and registered pharmacy service delivered direct to you.
Read medical information and answer medical questions to buy treatment online.
Selecting treatment
All medicine supplied is UK licensed.
Prices
Medical information
Written and reviewed by a team of doctors. Dr Fox is regulated by the CQC, GPhC, & MHRA.
Background
Every year more than a hundred travellers from the UK catch malaria and tens of them die. The onset can be rapid. The right anti malaria tablet provides good protection. The risks are higher for children and pregnant women, and for people with ongoing medical conditions.
Do NOT forget you may also need vaccines and other health advice from a GP or travel clinic.
Which malaria tablets to buy online?
No one type of recommended anti-malaria tablet works better than another. Some are daily tablets, some weekly. Some are started a few days before travel, others 7 or 10 days before.
To compare the 6 different anti-malaria tablets see the table comparing anti-malaria tablets below. For a more detailed comparison see drugs most commonly used for malaria prevention.
How to take malaria tablets
Take the right tablets for the area you are going to.
Start your tablets before entering a malaria area. This may be a few days or up to 10 days before.
Take the tablets absolutely regularly, preferably with or after a meal.
Continue to take them for 4 weeks after leaving the malaria area. This period is reduced to 7 days for Malarone and atovaquone/proguanil.
No anti-malaria tablet is 100% effective.
Where are you travelling?
Selecting your destination above will open required page on NHS Fit For Travel website and display the Malaria precautions information including recommended malaria tablets (Prophylaxis) and other travel health advice for that destination. Also visit the link on NHS Fit For Travel destination page to Malaria map which shows low and high risk areas in your destination country.
Anti-malaria tablet recommendations are based on malaria parasite (Plasmodium) drug resistance. It is important to take the medicine which is recommended for the area being visited.
How to avoid bites?
Mosquitoes can bite at any time of day. Most bites occur in the evening.
Wear long-sleeved clothing and long trousers if you are out at dusk and at night.
Use insect repellant containing DEET on exposed skin and under thin clothing, particularly around the ankles. Higher strength DEET, up to 50%, should be used if tolerated.
Insect repellent sprays, mosquito coils, and heating insecticide impregnated tablets all reduce the risk of bites.
Where possible sleep in screened rooms and use a mosquito net, preferably one impregnated with insecticide.
Ultrasound devices, garlic, Vitamin B, marmite, homeopathic products, tonic water, and citronella DO NOT prevent bites.
What are the symptoms of malaria?
Malaria symptoms start out similar to flu. Symptoms include fever, shivers, sweating, backache, joint pains, headache, vomiting, diarrhoea & sometimes delirium.
These symptoms may take a week or more to develop after you have been bitten by an infected mosquito.
Seek medical advice if you get malaria symptoms for up to a year after exposure, even after taking anti-malarial tablets. Malaria is diagnosed with a simple blood test.
If you are travelling in remote areas for prolonged periods it may be best to carry a malaria treatment and/or a malaria testing kit with you. Discuss this with your regular doctor.
Buy treatment
Anti-malaria tablets are prescription only (except chloroquine or chloroquine with proguanil) – our doctors will issue the prescription online direct to our pharmacy. Dr Fox Pharmacy supplies medicines only for adults (over 18 years). Further information about malaria tablets for children.
Comparing malaria tablets
Compare anti-malaria tablets
Doxycycline
Malarone (generic & branded)
Chloroquine
Paludrine (Proguanil)
Chloroquine / Proguanil combined
Lariam (Mefloquine)
Brand name
Many different
Malarone (Glaxo) or non-branded
Many different
Paludrine
Many different
Lariam
Dosage
100mg capsule
One capsule daily
250mg Atovaquone/
100mg Proguanil. One tablet daily
155mg (base)
Two tablets weekly
100mg tab two tablets daily
Proguanil two tablets daily plus chloroquine two weekly
250mg tab One tablet weekly on the same day each week
When to start
2 days before entering malaria area
2 days before entering malaria area
1 week before entering malaria area
1 week before entering malaria area
1 week before entering malaria area
10 days before entering malaria area
When to stop
4 weeks after leaving malaria area
1 week after leaving malaria area
4 weeks after leaving malaria area
4 weeks after leaving malaria area
4 weeks after leaving malaria area
4 weeks after leaving malaria area
Number of tablets for 1 week trip
37 tablets
16 tablets
12 tablets
84 tablets
12 chloroquine 84 proguanil
8 tablets
Side effects and cautions
Indigestion/heart burn. Increase sensitivity to bright sun.
Intestinal upsets and headache
Intestinal upset, headache, possible rash
Intestinal upset, rashes
Intestinal upset, headache, rash
Intestinal upset, Sleep and mental disturbance. Caution operating machinery.
Manufacturer's Patient Information Leaflet (PDF)
Leaflet
Leaflet
Leaflet
Leaflet
Leaflet
Leaflet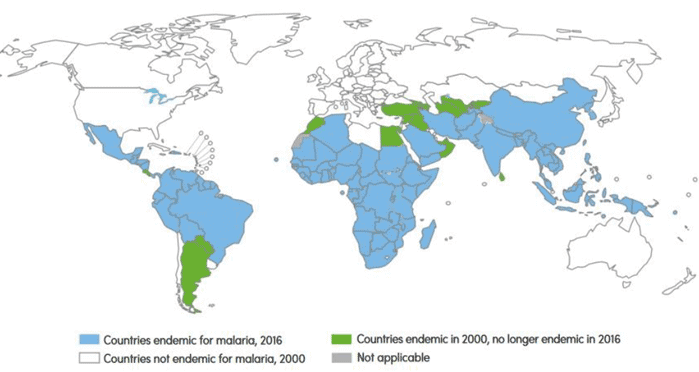 Authored 09 January 2010 by Dr Tony Steele
Last updated 3 March 2020
questions
Choose
order
PLEASE NOTE: All malaria tablet supplies suspended due to Covid-19.
Answer medical questions to order
(anti-malaria tablets)
You must read the important medical information for malaria tablets.
To find the malaria tablets recommended for the area you plan to visit please go to the NHS Fit for Travel website.
On the NHS website find the page for the country you are visiting.
On the top of your country page, click the link labeled 'Malaria Map'.
On the malaria map page check if you are going to areas coloured red or pink and see the advice below the map. If antimalarials are usually advised return to the malaria section of the country.
Your recommended tablets are at the bottom of your country page under the heading 'Malaria precautions'. Make a note of ALL the recommended tablets.
Please take care to get this right as it is important.
People visiting multiple regions where different tablets are recommended must see their GP or a specialist travel adviser before ordering.
If you are NOT eligible for treatment from Dr Fox consult your doctor or a specialist travel clinic. It is NOT safe to travel without appropriate malaria prevention.
Malaria tablets containing chloroquine no longer available from Dr Fox. Proguanil (Paludrine) and all other malaria tablets still available.
For my area of travel, Fitfortravel recommends the following (tick ALL the recommended medication from the list below):
Are you pregnant or do you intend to become pregnant during your trip or within 3 months afterwards?
Are you breastfeeding or will you be during your trip?
Have you been diagnosed with liver disease?
Have you been diagnosed with kidney disease?
Not including occasional urinary infection.
Do you have epilepsy or seizures?
Have you been diagnosed with significant depression or psychiatric disorder?
Do you have cardio conductive disorder?
Are you taking the anticoagulant warfarin or other blood thinning medicines, excluding Edoxaban?
Are you aware that no malaria tablet provides 100% protection?
See 'How to avoid bites' advice in medical information.
Are you aware that if you get a fever between 1 week and 1 year after exposure you should seek medical attention and tell the doctor the background?
Do you need malaria tablets only for yourself?
Do all the following apply to you?
---
The order process
Answer short medical questionnaire
Choose medication, register, and pay
Doctor issues prescription online
Pharmacy team post medication direct
---
Recent reviews
"All-around an excellent service. Quick, efficient and easy to order website."29 March 2020 – Anonymous
"Great service! My prescription was delivered promptly having been approved by a qualified doctor."29 March 2020 – Joff D., Brighton
"1st class service, trustworthy and reliable.We have used Dr Fox for 3 years now and they have always delivered quickly and efficiently."29 March 2020 – Helen H., Notts
"all fine"29 March 2020 – Ray S., London
"Have used Dr Fox for some time now. Always been excellent however most recent prescription isn't doing what its supposed to. Can only assume it doesn't have the stated properties in these tablets"29 March 2020 – Anonymous
"A great service and a super fast delivery. Thank you for supplying our trekking meds."29 March 2020 – Juha H., London
"Good efficient service"29 March 2020 – Charlie A., London
"good service"29 March 2020 – Michael C., Newport
"Speed of service"28 March 2020 – Anonymous
"T"28 March 2020 – Anonymous