Gyno-Daktarin cream
Gyno-Daktarin (2% miconazole) vaginal cream to treat genital thrush. Available to buy online from Dr Fox.
Start order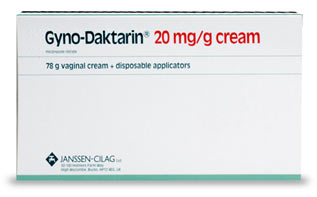 Buy Gyno-Daktarin cream online
How to order Gyno-Daktarin cream online for UK delivery:
Read medical information about thrush
Answer medical questions to check for eligibility
Reviewed by doctors - posted from UK pharmacy (tracked 24hr delivery)
Prices
| Thrush treatment | Quantity | Cost |
| --- | --- | --- |
| Gyno-Daktarin intravaginal cream (miconazole 2%) | 78 grams cream with applicator 1 treatment | £12.20 |
Dr Fox charges a small prescription fee per order.
If you have your own private paper prescription please post to our pharmacy (details).
Prescription fees
Dr Fox supplies medicine on prescription and charges a small prescription fee based on the order value of each prescription.
Prescriptions are issued by our doctors online and sent electronically to our pharmacy.
| Order value | Prescription fee |
| --- | --- |
| up to £10 | £1.00 |
| up to £20 | £2.00 |
| up to £40 | £3.00 |
| over £40 | £4.00 |
If you have your own private paper prescription please post to our pharmacy (details).
Dr Fox prices are 25%–50% lower than other UK online clinics.
Start order
---
About Gyno-Daktarin
Gyno-Daktarin contains an antifungal called miconazole nitrate which destroys the yeast that causes thrush symptoms. It is used for vaginal thrush infections.
How to use Gyno-Daktarin cream
The cream is applied directly to the skin or into the vagina.
Internal vaginal application
The applicator included in the medicine pack is used to put the cream inside the vagina. You screw the yellow end of the applicator with the green band onto the tube then squeeze the tube whilst pulling the inner white plunger on the applicator to draw the cream up until it reaches the stop mark. You then unscrew the filled applicator and replace the cap on the tube. Then insert the yellow end of the applicator with the green band well into your vagina and push the plunger firmly but gently. You may find this easier to do laying down with your knees bent and slightly spread. Empty the cream into your vagina by pushing the plunger as far as it will go. Remove the applicator and put it in the bin with your household rubbish.
Use one applicator daily at bedtime for 7 days.
External application
For infections outside the vagina, apply a thin layer of cream directly to the affected area twice a day. Use for 7 days.
Always wash your hands with soap and water after using the cream.
When to stop using
Use the cream for one week even if symptoms go away or you start your period before you finish the course.
What to do if I miss a dose?
Continue with the next dose at the usual time. Do not use a double dose of the cream.
Precautions
The cream can damage the latex in condoms or diaphragms so please remember to use alternative contraception if needed whilst using this cream.
Possible side effects
A few women may experience mild local side effects such as redness or irritation of the skin.
Very little of the active ingredient miconazole gets absorbed through the skin into the body so other side effects are possible but uncommon. For further information please refer to the manufacturer's patient information leaflet.
When not to use
Do not use if you are allergic to antifungals or the other ingredients in the cream.
Caution is advised if you are taking warfarin, calcium channel blockers such as verapamil, diabetic medication taken by mouth, phenytoin, or statins. Please speak to a pharmacist or your GP before using Gyno-daktarin if taking any of these.
If you are pregnant or breastfeeding you may be able to use this cream but please speak to your GP or midwife first who will be able to advise you further. Dr Fox does not prescribe for pregnant or breastfeeding women.
The Breastfeeding Network offers advice on using products for thrush when breastfeeding.
Additional information
Patient Information Leaflet

The Patient Information Leaflet (PIL) is the leaflet included in the pack with a medicine and must be read before taking the medicine. It is written for patients and gives information about taking or using a medicine.

Authored 05 August 2021 by Dr Claire Pugh
MB ChB University of Liverpool 2000. NHS GP in Bristol.
---
The order process
Choose medication, register, and pay
Dr Fox issues prescription online
Pharmacy team post medication direct