Periods can be pretty annoying at the best of times, but for some occasions, such as backpacking or going to a festival, they really can get in the way. Wouldn't it be great if you could pick and choose when your period comes? Well the good news is, you can. Here's how to do it the safe and sensible way.
What is it?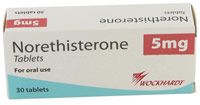 Norethisterone is hard to spell, but it is pretty useful.  It is used mainly to treat a number of menstrual cycle disorders, but it can also be used to control periods. It is a prescription only tablet, so you will have to get an prescription either online or head to your local health centre to get it. You can find your university's local health centre here.
When should I take it?
You need to take the 5mg tablets 3 times a day, beginning 4-5 days before your period is normally due (or an estimated day if yours is quite irregular), and continue to take it for as long as you want to postpone the period. Your period will then return a minimum of 2-3 days after you stopping Norethisterone.
How much does it cost?
30 tablets cost £9.50 from our registered pharmacy, This amount will last 10 days. If you need norethisterone for longer, prices will vary.  If you already have a private prescription, the the cost will be different.
Side effects
The side effects of Norethisterone are not generally a problem, although as with many tablets, there are risks of side effects. The most common include bloating, breast tenderness, loss of libido, and stomach pains. These are more likely to occur if the tablet is taken on a long term basis (which is normally only the case if you are using it for a menstrual cycle disorder).
Things to remember
Norethisterone is NOT a contraceptive pill, and should NOT be taken to prevent pregnancy.
If you are currently taking a contraceptive pill, you should NOT use Norethisterone to delay your periods. See the NHS Choices website for advice about delaying periods whilst taking contraceptive pills.
Norethisterone should NOT be requested more than once every 4 months.
Don't forget to read the manufacturer's  information leaflet which come with the tablets in full. Yes it's long and boring, but it is important and only there to make sure you treat your body right.