Trusted Shops accredited member
www.doctorfox.co.uk is registered and certified with the Trusted Shops scheme – click the certificate to verify.
Trusted Shops checks online shops across Europe for their observance of consumer rights and offers customers guaranteed protection for their purchases with Trusted Shops Buyer Protection.
After orders have been received customers can post a review of the Dr Fox service on Trusted Shops.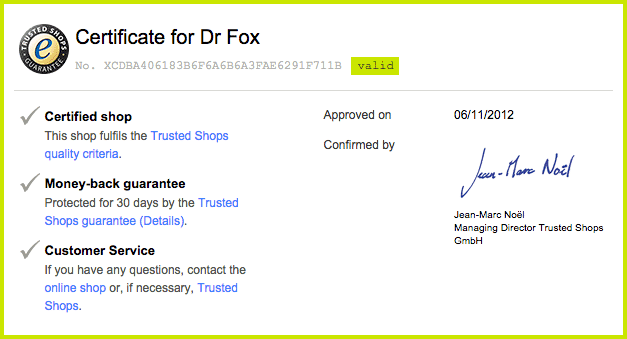 Trusted Shops ensures online retailers meet more than 40 quality criteria with regard to creditworthiness, data protection, security and information obligations. The Trusted Shops quality criteria are based on national and European laws that are important for making purchases on the Internet. They take into account all rulings and stipulations by the consumer protection associations, in some cases even exceeding them.
Customers of certified Trusted Shops sellers are protected automatically. Infringements against data protection regulations, non-transparent prices, limitations to the right to cancellations or other risks are checked by Trusted Shops.
Trusted Shops Buyer Protection
Customers can protect their purchases from Dr Fox by registering with the free Trusted Shops Buyer Protection scheme once a purchase has been made. Every order can be protected up to £2,500. Free Buyer Protection is offered to you immediately after making an order - simply check the details on the form and activate Buyer Protection by confirming.
For further information please visit www.trustedshops.co.uk
Please also read the important information on data security and payment security.
The Dr Fox website is genuine and safe
Many people are still uncertain about the legitimacy of ordering medicine online and we frequently answer questions such as is the Dr Fox website safe/genuine?
For those seeking assurance, please visit the following links to independent third party websites. Check the website address of each in your browser address bar.