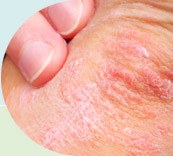 Eczema and dry skin
Aqueous cream, emollients and emulsifiers on prescription to treat dry skin and control eczema from NHS pharmacy.
Complete medical questionnaire
Register, order and pay
Medicine posted NHS UK pharmacy
Eczema and dry skin treatment
Eczema and dry skin often go together. In eczema the skin is usually dry, reddened, itchy and sometimes cracked. About 3 in 10 people who visit their GP with a skin problem are diagnosed with eczema. The number is increasing.
Atopic eczema, which is the term used to describe eczema where the cause is unknown, usually starts in childhood, often before the age of 1 year. The symptoms can be anything from small patches of minor irritation to a severe rash covering the whole body.
Treatment of eczema
Active patches of inflamed skin are usually treated by GPs with steroid creams. These creams come in different strengths. Stronger steroid creams are used only where inflammation is very active. Steroid creams are effective although they tend to loose their effectiveness when used continuously for more than a few weeks. Excessive long-term use can damage the skin.
After active eczema has been reduced using steroid creams it can usually be kept under control by keeping the skin hydrated.
Keeping the skin hydrated with medical moisturisers called emollients often prevents flare-ups of eczema and can reduce the need to use steroid creams. Oil has a protective effect on the skin.
Cautions
Eczema usually comes and goes. Patches of skin inflammation, particularly if new, that do not go after a few weeks or are spreading may not be eczema. We do not prescribe emollient to people who have not seen a doctor face-to-face and had a diagnosis.
Some emollients contain antiseptics or perfumes to which some people are sensitive. If the skin stings after an emollient is applied and stinging does not settle in a half an hour then it is best avoided using the emollient again.
Calmurid 10% contains urea 10%, a skin softener and exfoliant which can 'burn' sensitive skin.
Calmurid 10% Patient Information Leaflet
For further information please see the NHS choices website for eczema and emollients.
Start Consultation

Emollients, emulsifiers & bath oils
Consultation and supply on prescription from: £4.50
Start Consultation
Prices of eczema treatment
View Prices
Prices of eczema treatment from Dr Fox (foot of page).
Types of emollients
Soap substitutes.
Soap, shower gel and bubbles baths all dry the skin. We supply two alternative soap substitutes on prescription, emulsifying ointment and aqueous cream. Emulsifying ointment is a creamy material with a similar consistency to lard. Aqueous cream is thinner, with a consistency similar to Nivea cream.
When rubbed over the skin in a bath or shower they both clean the skin and leave it slightly greasy. Aqueous cream can be mixed with a little warm water and used as a shaving cream. Aqueous cream is also a useful alternative to soap for hand washing.
These soap substitutes do not produce lather and take some getting used to.
Emollient bath additives.
The simple act of wetting the skin can dry it out. Adding small amounts of emollient oil to the bath water prevents this drying. Some bath emollients contain an antiseptic that can be useful where a person is prone to infections of their eczema. Caution: adding oil to the water makes a bath slippery.
Emollient creams and lotions.
Emollients, creams and lotions, supplied here on prescription, are applied to dry areas of skin either occasionally or up to many times daily, depending on need.
Used regularly or occasionally, when the skin is starting to dry out, they can prevent a flare up of eczema and reduce the need for steroid creams.
Information leaflets
Diprobase Patient Information Leaflet
Calmurid 10% Patient Information Leaflet
Eczema and dry skin treatment prices plus online prescription fee
TOP
Eczema and dry skin treatment
Quantity
Cost
Aqueous cream (non-proprietary)
100 gram (large tube)
£4.50
Aqueous cream (non-proprietary)
500 grams (large container)
£7.80
Emulsifying ointment (non-proprietary)
500 grams (large container)
£9.20
Diprobase cream
500 grams pump pack
£12.20
Oilatum cream (includes fragrance)
500 mls pump pack
£14.10
E45 Itch Relief Cream (contains urea)
500 grams (large sized tub)
£23.60
Oilatum (emollient bath additive)
500mls
£9.80
Calmurid (Galderma) contains urea 10%
100 grams
£9.40
Calmurid (Galderma) contains urea 10%
500 grams (large)
£34.60
how to orderPrices below if you already have a private prescription
Omacor 1g capsules
100 capsules (3 month supply)
£55.92
Calmurid (Galderma) contains urea 10%
100 grams
£6.27
Medicine prices and prescription fee details.
Compare Prices
Dr Fox prices are
25%–50% lower cost than other online clinics.

RATED EXCELLENT
Read independent customer reviews.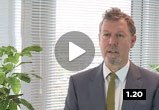 Recorded delivery (requires signature)
UK delivery: £2.90
Overseas delivery: £5.90 (Express Int'l £32.00)
Delivery information
Discreet packaging
Registered with the Care Quality Commission.
How we are regulated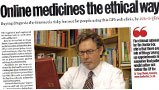 Read what the medical trade press have to say about the Dr Fox online pharmacy prescriptions.
All sensitive data is secured using high level encryption.
Data protection & security
Payments on this website are processed securely.