Omega-3
Medicinal strength Omega-3 from fish oil – the recommended source of omega-3. Achieve the daily recommended target.
Read medical information and answer medical questions to buy treatment online.
Omega-3 fish oil
Prices
---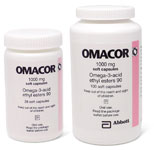 Omacor 1000mg
(omega-3 fish oil)
28-200 caps from £21.60
Buy treatment
Prices
| Omega-3 fish oil supplements | Quantity | Cost |
| --- | --- | --- |
| Omacor 1000mg capsules | 28 capsules (28 days supply) | £21.60 |
| Omacor 1000mg capsules | 56 capsules (56 days supply) | £42.00 |
| Omacor 1000mg capsules | 100 capsules (3 month supply) | £68.00 |
| Omacor 1000mg capsules | 200 capsules (7 month supply) | £132.00 |
Prescription fees
Dr Fox supplies medicine on prescription and charges a small prescription fee based on the order value of each prescription.
Prescriptions are issued by our doctors online and sent electronically to our pharmacy.
If you have your own private or NHS paper prescription please post to our pharmacy (details).
Dr Fox prices are 25%–50% lower than other UK online clinics.
| Order value | Prescription fee |
| --- | --- |
| up to £10 | £1.00 |
| up to £20 | £2.00 |
| up to £40 | £3.00 |
| over £40 | £4.00 |
Delivery charges
UK delivery only: £2.90 per consultation via Royal Mail 24 Signed For (1-3 working days with tracking).
Parcel forwarding services are not permitted. Use only UK home or work delivery address.
Returns and refunds - unwanted items can be returned within 14 working days for a full refund.
Medical information
The Food Standards Agency recommends people eat at least two portion (140 grams each when cooked) of oily fish per week. This is more than 3 grams of omega-3s. People who have had a heart attack are advised to eat 2-4 portions oily fish per week. This is at least 7 grams omega 3s.
It is reasonable to take omega 3 tablets as a supplement if these dietary recommendations are not being met.
Detailed guidance on recommended dietary intake of fish, types of fish, intake for males and females, and omega 3 in pregnancy can be found at the NHS Choices website.
There are conflicting opinions on the benefits of taking omega-3s. If taken within three months of a heart attack there is a protective effect. There is no clear-cut evidence that omega-3 supplements reduce heart disease in otherwise healthy people. See NHS NPC review article (archived).
Products available
Omacor 1g capsules: omega-3-acid ethyl esters 90 containing EPA 460mg and DHA 380mg, 28 or 100 capsules. One daily.
Omega-3 fatty acids are the sorts of fats found in oily fish and some vegetables.
Regular medication
You may read in some places that fish oil is better than other treatment in protecting the heart. However, regular prescribed medication should not be stopped unless your regular doctor agrees.
Cautions
Consult your regular doctor before taking omega-3 if any of the following apply:
You are taking anticoagulant medication (drugs to thin the blood such as warfarin)
You have liver disease
You have had surgery or suffered trauma recently
You are over 70 years of age
You suffer from a renal disease
You are diabetic and your condition is not controlled
Should not be used during pregnancy and breast-feeding unless absolutely necessary
Side effects
The most common side effects are nausea and indigestion. Other side effects are uncommon or rare and listed in the Patient Information Leaflet supplied.
Buy treatment
Dr Fox supplies Omacor on prescription – you are required to answer a short medical questionnaire before your order can be completed.
questions
Choose
order
Maxepa 1mg capsules DISCONTINUED by manufacturer
Omacor out of stock.
Answer medical questions to order
(omega-3 fish oil)
---
The order process
Answer short medical questionnaire
Choose treatment, register, and pay
Doctor issues prescription online
Medicine posted direct from pharmacy
---
Recent reviews
"Easy order fast delivery perfectly wrapped"10 Dec 2018 – Mr martin B., Twickenham
"Thank you"09 Dec 2018 – Anonymous
"thanks many thanks and kind regards."09 Dec 2018 – Dana S., London
"First class service"09 Dec 2018 – Anonymous
"Thanks"09 Dec 2018 – dee d., Dublin
"Very satisfied"09 Dec 2018 – Anonymous
"Spedra product purchased is not fit for purpose."09 Dec 2018 – Anonymous
"excellent service, very straightforward and easy to use"09 Dec 2018 – Paul H., Shropshire
"Totally the best.I have never felt so respected in my whole life.Thank u"09 Dec 2018 – Gwynn C., milton keynes
"Great service"09 Dec 2018 – Anonymous