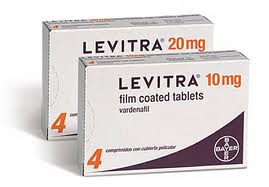 There are a number of options when it comes to the treatment of erectile dysfunction (ED). Whilst your GP or specialist should be the one to recommend the appropriate course of action, it is important to know the facts. After all, there is no such thing as too much information when it comes to a medical condition like ED.
What is Levitra?
Vardenafil is the key ingredient in Levitra. It was first synthetized by German pharmaceutical company Bayer in 2005. Much like Sildenafil it acts it acts by inhibiting PDE5, an enzyme which is involved in the regulation of blood flow in the penis. Altering the levels of PDE5 helps achieve and maintain erections. While Levitra is the most common commercial name for vardenafil, it is also sold under the name Vivanza in the European Union. The names may differ, but they are exactly the same medication.
Levitra is available in 5mg, 10mg and 20mg dosages and is also available in orodispersable tablets, which act faster than ordinary tablets.
How does it work?
In order to be effective Levitra must be taken at least twenty minutes before sexual activity. Keep in mind that this medication is not an aphrodisiac and does not cause an instant erection right after ingestion. In order to achieve an erection sexual stimulation is required. Levitra can be taken on an empty stomach and should not be taken more than once a day.
What makes it different?
Levitra has a higher biochemical potency than sildenafil, which means the same effect can be achieved with a lower dosage, although in practice this simply means for the same effectiveness with slightly smaller tablets.
Levitra works for about 4-5 hours, which is a little longer than the 4 hours for sildenafil, but shorter than the upto 36 hours of Cialis.
Any precautions?
As with all erectile dysfunction treatments, it is important to speak with your GP to see if Levitra is the right drug for you. Always follow your doctor's instructions in order to reduce the chance of complications. Do not forget to disclose any and all medical history and medications you may be taking for other conditions.
Levitra should not be taken if you currently have or have suffered from:
Heart complications, such as recent heart attack or severe angina
Active untreated peptic ulcers
Serious liver or kidney problems
A deformed penis or marked angulation of the penis, known as Peronie's disease
Alpha blocker, nitrate based medications and drugs used to treat HIV should not be taken at the same time as Levitra, as this can cause harmful side effects.
Levitra has a limited set of side effects. In very rare cases it can cause painful erections that last for more than four hours. If you experience this symptoms contact a doctor immediately as this is considered a medical emergency. Other side effects, which are usually of less importance include, temporary alterations in colour vision, falls in blood pressure and nasal congestion.
If you suffer from ED and think Levitra may be right for you, talk to your GP about the options available or to be referred to an expert in the area.
For further information see the manufacturer's patient information leaflet.