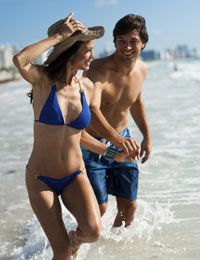 As the nights draw in and the ground turns frosty, a winter getaway seems like the perfect escape! But whether you're heading to the sunny Maldives or visiting Santa in Lapland, there are a few essential items you should remember to pack.
Clothes
If you're jetting off into the sun, it can be tempting to leave all of your winter clothes behind, but many destinations are cooler in winter, so always make sure to take a jumper.
However, if you're travelling to somewhere cold, you may struggle to fit all of your winter woollies into a single bag. So rather than trying to cram in your whole wardrobe, why not try layering instead? By wearing several layers at once you'll trap heat, leaving more space for all of your souvenirs!
Medication
In the excitement of booking your trip, it can be easy to forget to check whether the country you're travelling to has any medical advisories. Always check well in advance so that you can have vaccinations arranged prior to travel.
In addition, Malaria is prevalent in some places, so consult the NHS Fit for Travel website to check the risk for your destination. You will need a prescription to buy most anti-malaria tablets, but they're not free on the NHS so it's convenient to buy anti-malaria tablets online.
Travellers' diarrhoea, jet lag and travel sickness treatments are also available on prescription.
Sun Protection
Buying sun protection in the depths of winter can seem a bit strange, but you'll be thankful once you step off the plane. If you're headed somewhere hot then ensure that you've packed sun cream, sunglasses, loose cotton clothing, Aloe Vera and a sunhat.
These items can also be important if you're planning a Christmas on the piste. Many new skiers are unaware of the risks of sunburn and skin damage on the slopes but it can leave you very sore. The higher altitudes increase the level of UV radiation and the snow reflects the sun, so snow goggles and sun cream are a must.
Presents
If you'll be spending Christmas abroad, then it's important to remember to pack a few presents.
If you're travelling with children, then it can be a good idea to just take a couple of things and leave the rest to be unwrapped when you get home. Adult presents are a little easier as you can take lightweight items such as vouchers or gift cards.
Another option is to treat your loved ones to an activity while you're away. They'll have fun memories to enjoy and you won't lose any space in your case.
Have a great trip wherever you go!