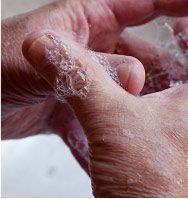 What is Global Handwashing Day?
Global Handwashing Day is a campaign to encourage millions of children and others around the world to wash their hands with soap
The first Global Handwashing Day took place on October 15, 2008
The main aim is to get school children in more than 70 countries to wash their hands with soap to prevent the spread of infections and diseases
Why wash your hands with soap?
Washing your hands before eating and after using the toilet prevents the spread of bacteria, protozoa and viruses that can cause diarrhoea and diarrheal diseases
Getting into the habit of handwashing could save more lives than any single vaccine or medical intervention 
Handwashing with soap is the most effective and inexpensive way to prevent the spread of diarrheal and acute respiratory infections
Why should I take handwashing seriously?
Around 2.2 million children under five die every year from diarrheal diseases and pneumonia – the top killers of young children around the world
Human faeces is the main source of typhoid, cholera, gastro-enteric infections and some respiratory infections, such as pneumonia
A single gram of human faeces can contain one million bacteria and 10 million viruses
What's the best way to wash your hands?
Wet your hands with clean, running hot or cold water and apply soap
Rub your hands together to create a lather, making sure you scrub the back of your hands, between your fingers and under your nails
Rub your hands for at least 20 seconds – singing the 'Happy Birthday' song is a good way to time it
Rinse your hands thoroughly under running water
Dry your hands using an air dryer or clean towel
How handwashing can help in the future
Research shows that children in households which encourage handwashing half the diarrheal rates
Handwashing can prevent the transmission of pathogens so could be more effective than a vaccination
Millions of children in developing countries die every year through diarrheal and respiratory infections – ingraining pre-eating and post-toilet handwashing could reduce deaths by a quarter
Do your part to reduce the spread of infections and diseases by taking part in Global Handwashing Day on October 15.
Resources