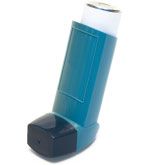 Dr Fox online clinic is now able to supply salbutamol inhalers for the relief of asthma symptoms. As with other medicine Dr Fox supplies, the price is 25% to 50% lower than other online clinics.
Salbutamol inhalers are prescription only medicines in the UK, although in other countries they can be bought from pharmacies without a prescription.
A medical questionnaire must be completed before asthma inhalers can be supplied. This is a yes/no questionnaire with spaces for patients to add information as needed consultation. Each request for treatment is review by a UK doctor. Dr Fox medicines are posted recorded delivery from UK pharmacies.
Blue Ventolin inhaler and Salamol Easi-Breathe
Dr Fox supplies salbutamol asthma inhalers with the brand names Ventolin Evohaler (£8.50) and Salamol Easi- Breathe (£15.80). Both deliver 100mcg of salbutamol per puff.  The most widely used branded salbutamol inhaler in the UK is Ventolin Evohaler (the typical blue inhaler). Only about 5% of patients use a 'breath actuated' type of inhaler such as Salamol Easi-Breathe.
Dr Fox doctors allow only an average of one salbutamol inhaler to be supplied per month. Requests which are made more frequently would normally be declined with a reason given and a full refund. In exceptional circumstances additional inhalers may be supplied, depending on the information provided by patients during their consultations.
Consultation Process
Seretide inhalers and steroid inhalers
Dr Fox does not supply Seretide inhalers or steroid inhalers, only salbutamol inhalers in limited quantities to patients who have previously used them. Dr Fox also does not supply dry powder salbutamol inhalers which come in different strengths.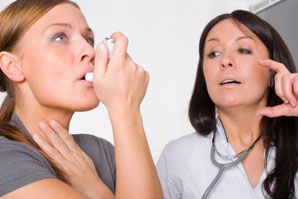 Online Asthma Service
Patients are eligible for this asthma service, if they have had a face-to-face asthma clinic check-up in the previous 12 months and they are already using a salbutamol inhaler. Patients must read and information page about asthma and its treatment before they complete their online consultation.
Medicines are supplied with 'patient information leaflets' which Dr Fox patients must agree to read.
Patients are encouraged to keep their GPs informed about medicines supplied online. Dr Fox will post a copy of consultations to GPs, if patients provide contact details and agree to information sharing. If more than 3 salbutamol inhalers are supplied in any 12 month period, patients are required to provide their GP's contact details.
Patients who have worsening asthma symptoms are advised to have a check-up with their doctor or asthma nurse. Where inhalers are ineffective or need to be used more than 4 times daily, patients are advised to seek urgent medical help.
Dr Fox online asthma service should reduce the chances of patients running out of their inhalers and reduce pressure and costs on the NHS.
The limits on supplies and the requirements to keep GPs informed mean that primary care and integrated NHS care are supported. The additional information patients receive, as part of the consultation and in links to the NHS Choices website, will help patients to be more involved in the better management of their own health and extend patient choice.