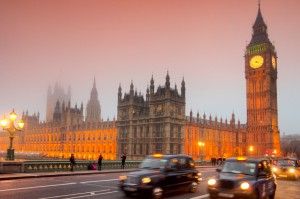 It was like a scene from a futuristic, dystopian science fiction film as a thick blanket of smog and haze covered certain regions of the country recently. Landmarks were obscured by the pervasive mist and health warnings were issued – 1.6 million people suffered an asthma attack as a result.
Many areas were gripped by intense levels of pollution, the emergency services saw a major increase in 999 calls and hospitals saw an influx of extra admissions as the smog had a major effect on people's health.
Rise in health problems
A survey carried out by Asthma UK revealed 30% of the UK's 5.4m asthmatics – equating to 1.6m – suffered asthma attacks because of the prevalent toxic cloud. In addition, 84% claimed they used their inhaler more than usual with half of those not venturing outside at all. The smog cloud has also strengthened expert's fears over the rising dangers and effects of pollution and the impact it could have on people's quality of life.
The London Ambulance Service reported a 14% increase in emergency calls for asthma, breathing and heart problems, whilst the West Midlands emergency services attended more cases of people with heart and breathing difficulties.
The Department for Environment, Food and Rural Affairs (Defra) reported the highest ever levels of air pollution recorded. The South East also reported "very high" then later "high" levels of pollution.
Altogether, 19 regions in the UK experienced high levels of pollution.
Cause, controversy and possible cancellations
The smog was caused by a combination of sand from the Sahara and European emissions blowing into the UK.
London Mayor, Boris Johnson, caused some controversy after saying he cycled to work and "it seemed perfectly fine", prompting an outraged response form the London Assembly Labour Group , accusing him of having a "dangerously complacent" attitude.
People with heart and lung conditions were advised to avoid strenuous outdoor activity, whilst anyone suffering from coughs, sore throats and sore eyes were advised to limit the amount of time they spent outside.  Some schools in London even banned pupils from going outside to minimise their exposure to the smog.
Organisers of the London Marathon were also monitoring the smog ahead of the race – which took place on Sunday 13 April – with some suggesting that the event might have had to have been cancelled altogether if there had still any risk to runners' health.