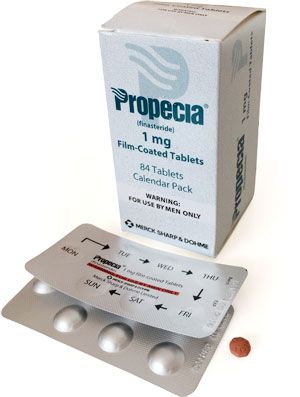 Propecia tablets (finasteride) taken daily will prevent or reverse hair loss in most men who have typical male pattern baldness.
Propecia is a prescription only medicine. To buy Propecia online a prescription is required. Prescriptions and Propecia tablets are available from Dr Fox. Propecia costs around £1.20 per tablet depending on the quantity of tablets bought.
How to order
Improvement starts after 3 months, is measurable at 6 months, and is most noticeable at 2 years after starting Propecia. Improvement is usually is sustained at 5 years.
Effectiveness of Propecia tablets
Patients can notice an improvement 3 months after starting Propecia. Studies have shown after five years of taking Propecia 5 out of 10 have more hair. A further 4 out of 10 men who take Propecia tablets for 5 years have no hair loss.
Put another way, for men taking Propecia for male pattern baldness 9 out of 10 have improved hair growth or no increase in hair loss. The same figure for men not taking Propecia would be 4 out of 10.
See the Propecia summary of product characteristics for a complete list of study data.
Propecia side effects
Propecia tablets are well tolerated. Less than 2 in 100 men stop treatment because of side effects. Less than 2 in 100 men report reduced libido or reduced erection, a figure only slightly higher than men taking placebo. The manufacturer of Propecia lists no other significant side effects.
Taking Propecia
Propecia tablets 1mg (finasteride) are taken with food as a once daily dose. Propecia should be taken continuously for at least 3 months and preferably at least 6 months. If there is no improvement after a year it should be stopped.
Cautions and Propecia interactions
There are no significant interactions of Propecia with other prescription drugs.
Women should not take Propecia. It will not work for female hair loss and is likely harmful to the unborn child in pregnancy.
Men already taking finasteride 5mg (Proscar) for prostate enlargement should not take Propecia.
Propecia 1mg reduces the amount of prostate specific antigen (PSA) in the circulation and would thus invalidate screening for prostate cancer base on measuring PSA levels unless adjustments are made in the results.
There is a small risk that the active ingredient of Propecia tablets could be adsorbed through the skin. For this reason pregnant women should not handle crushed or broken tablets.
How Propecia works (finasteride 1 mg)
Finasteride stops testosterone in the circulation being converted to dihydrotestosterone (DHT) in the scalp. It does this by inhibiting the action of the enzyme type II 5α-reductase. Male pattern baldness is associated with scalp DHC levels.
There is no more effective treatment for promoting hair re-growth in male pattern baldness.