Online Clinics employing UK Doctors
There are 3 types of online clinics in the UK:
1. Online clinics issuing prescriptions
Dr Fox is an online clinic that carries out medical consultations online. This leads to prescriptions being issued. Medicines are posted to patients from an associate NHS pharmacy.
Similar online clinic services are provided by Lloyds Online Doctor, Health Express, 121 Doc, Meds 4 All, First Meds, The Online Clinic and Private Meds (compare prices).
Dr Fox provides the greatest range of prescription medicines at 25-50% lower medicine prices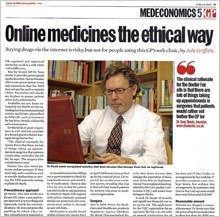 2. Online clinics giving one to one medical advice
A few online clinics in the UK offer consultation services where patients can consult with a doctor online. These services usually do not issue prescriptions, although in some circumstances prescriptions can be issued. Examples of this sort of clinic are talktoadoctor. These clinics employ GMC registered UK doctors.
3. Online clinics providing medical information
There are a few websites where doctors provide medical information. Netdoctor and patient.co.uk both have large numbers of entries covering a wide range of topics. People who want to find out about medical issues can find out what UK doctors generally advise.
These sites do not usually have extensive information about alternative, natural or homeopathic remedies.
Online doctors
All the online clinics mentioned above employ UK doctors. The doctors follow "GMC Guide to Good Medical Practice".
Doctors issuing prescriptions online or the organisations employing them should also be registered with the Care Quality Commission.
The advice and treatments online clinics offer is generally orthodox. The treatment and advice given online is broadly similar to the treatment and advice given in surgeries.
Some treatments are not available or are rationed on the NHS. Online clinics are private and can provide treatments including travel medicine, malaria tablets, erectile dysfunction treatment and hair loss treatments. Dr Fox provides all of these and many more.
Online Pharmacy
Online pharmacy is well established in the UK. There is a system in place for regulating pharmacies. Online pharmacies register with the Royal Pharmaceutical Society of Great Britain. Online pharmacies provide non-prescription health and beauty products and prescription medicines.
Some online pharmacies have systems set up to take NHS prescriptions and dispense and post out prescription medicine.
Some online pharmacies work with online prescription services. The doctors working for the prescription services carry out online consultations and issue prescriptions and the pharmacies supply the medicine.
Dr Fox has an partner program set up to allow prescription services to be added to an online pharmacy service. We believe this is what customers want.
Customers are more and more looking to access services online. Some medicines and a great deal of medical information are already provided online. This has public health benefits. In some cases costs are taken away from the NHS. Demand is increasing all the time.