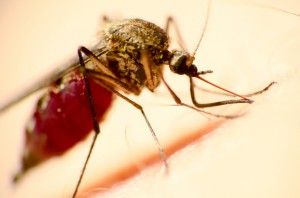 Public Health England (PHE) has published a report for World Malaria Day which shows an overall increase of 9% of imported malaria infections reported in the UK in 2013 compared to 2012.
2012's reported figures were 1,378 compared to the increased number of 1,501 in 2013.
Different strains – and those most at risk
Transmitted to people through the bites of mosquitoes infected by parasites, malaria can potentially be a life threatening disease. 79% of malaria cases in 2013 were caused by the more severe strain Plasmodium falciparum, a significant indicator that reflects the fact the majority of malaria is acquired in Africa.
Cases of another strain of malaria – vivax malaria – have continued to decrease, with 179 reported cases in 2013 compared to 271 in 2012 and 416 in 2011. The report also highlighted the highest number of malaria cases in the UK are in men between the ages of 35 and 50.
As with studies carried out over previous years, the highest proportion of cases has been seen in non-UK born travellers who have visited family in their indigenous country.
There are still a high proportion of cases in people who have not taken the appropriate antimalarial, suggesting that continuing health messages about the importance of getting the proper antimalarials are still not getting through.
Those who still seem particularly at risk and who are ignoring the warnings appear to predominantly be people visiting family in their country of origin, particularly those of Black African ethnicity.
Particularly significant is the fact that people brought up in a country where malaria is common very quickly lose any immunity to it once they've been living in the UK.
A timely reminder
The report – run in conjunction with World Malaria Day which fell on 25 April – is a timely reminder to people travelling to malaria affected countries to take the necessary preventative measures and medicines to protect themselves.
Malaria first manifests itself as flu and fever-like symptoms which, if not quickly treated, can lead to health complications and, in some cases, prove fatal.
The best advice for people travelling to countries where malaria is prevalent is to get advice from your general practice or GP, pharmacy or specialist travel clinic at least 6 to 8 weeks before travelling.
Other useful and practical tips to avoid mosquito bites are to use bed nets, insect repellents and cover-up clothing, particularly for more vulnerable travellers such as children.
A continuing, high priority
Malaria remains a critical issue and high priority for UK travellers, being an almost completely preventable but potentially fatal disease. Continuing evidence suggests that people of Asian or African ethnicity, non-UK born and visiting family members in their country of origin are most at risk from contracting malaria.
Public Health England outlined proposals in it's report that suggested people offering advice should engage with these particular population groups, as well as talking about future travel plans outside of particular travel health consultations, such as child immunisation appointments and during new patient checks.
If you are travelling to a country where malaria is prevalent, make sure you're sufficiently protected. Dr Fox has a wide range of anti-malaria tablets available on prescription.