Dr Fox 25%–50% cheaper medicine
When you get Champix, or Propecia, or Malarone or erectile dysfunction treatment from Dr Fox you get a good deal.
Researchers have compared prices of treatment at The Online Clinic, 121 Doc, Lloyds Online Doctor, First Med, Meds  4 All, Private Meds, Health Express and Chemist Direct.
See comparison of prices for Propecia, Champix and Malarone and erectile dysfunction.
Some online clinics are charging 2 or 3 times the wholesale price for prescription medicine. Dr Fox, on the other hand, adds around 15% to the wholesale price and provides exactly the same medicine.
Online clinics in the UK are regulated. They post medicine from registered UK pharmacies. Customers go online to complete a medical questionnaire, doctors issue the prescriptions, and medicine is posted direct to you. The process is convenient and confidential.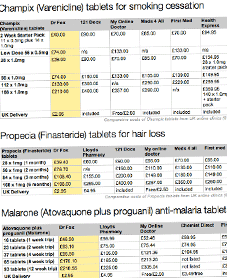 Price of medicine
How some clinics justify their prices is difficult to know. Their overheads are unlikely to be high, as they do not need to maintain consulting rooms. The IT is generally not expensive. One is given to conclude some online clinics are taking an excessive profit because their customers are not aware of the alternative.
Until 2 months ago a regulation of the MHRA (Medicine and Healthcare products Regulatory Authority) prevented online clinics showing prices for prescription medicine before a consultation. The regulation has changed in favour of the customer. It is now permissible for online clinics to list their prices. Dr Fox does this for all the treatments it supplies. Maybe other clinics will follow suit. However, if they are charging an arm and a leg, they may not.
Avoid buying prescription medicine on price alone
When getting prescription medicine online it is important to avoid websites selling fake medicine. Bogus sites, usually based overseas, do not display contact telephone numbers. The medicine they supply comes from unregulated overseas suppliers. It is likely to be fake or substandard. These clinics are illegal, and in some cases, dangerous.
The drugs most expensive and most frequently sourced online are the stop smoking tablet, Champix, and the hair loss treatment for men, Propecia. Other expensive medicines, which are often not available on the NHS, are the erectile dysfunction treatments, Viagra, Cialis and Levitra, and the malaria tablet, Malarone. Malarone is a medicine which is still under patent. There is only one drug company supplying genuine Malarone. The only way to get it at a reasonable price is to shop around. There is no such thing as cheap Malarone. [Update: Malarone is now off-patent in the UK and available as a generic.]
Dr Fox is a fairly new online clinic. We hope to provide a more affordable service than has been available previously. We are transparent about our prices. We give customers a real choice in where they go when making decisions about their health.