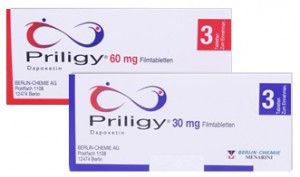 Priligy (dapoxetine) is the only UK licensed tablet treatment for premature ejaculation (PE). The drug was first created by Eli Lilly. In 2012, Menarini gained the rights to market Priligy in Europe.
Buy online £19.50
Supply cost of Priligy
The wholesale price, when bought in packs of three, for a single 30mg tablet of Priligy is £4.90 and £6.37 for a 60mg tablet (May 2014). This is the cost to the NHS and the price charged by pharmacy wholesalers. Dispensing pharmacies may obtain discounts, typically of around 6%. Prices are high because there is only one licensed supplier and hence no competition. This situation will continue until the Priligy drug patent expires, when other drug companies will be able to enter the market.
Cheap Priligy online
The cost of Priligy online in the UK from regulated sites varies greatly. At the time of writing in May 2014 Dr Fox the lowest cost provider: see comparison of Priligy prices.
Priligy is one of a number of drugs which is widely available in the UK through regulated online clinics and illegally through unregulated overseas websites. Regulated websites provide genuine medication through approved pharmacy wholesalers and retailers. Unregulated websites provide tablets which are non-genuine. They may be fakes, non-standard generic Priligy, or simply dummy tablets containing inactive or even harmful ingredients.
Regulated websites will be registered with the Care Quality Commission, employ GMC registered doctors, with tablets dispensed by pharmacists and posted from pharmacies registered with the General Pharmaceutical Council UK (see regulation page).
Sites advertising cheap generic Priligy online are selling fakes. Prices may be low, but these sites operate outside UK law, are usually uncontactable, and the tablets supplied are not subject normal checks and testing.
Priligy on prescription
Priligy is a prescription medication and cannot be obtained legally in the UK without being prescribed by a doctor or a specialist prescribing nurse or pharmacist. The costs of obtaining a prescription vary widely, depending on whether consultations are carried out online or face-to-face, privately or through the NHS. Face-to-face consultations with a private GP would typically cost in the region of £50.00 to £100.00, although most men would not go down this route to obtain Priligy. Priligy is available on the NHS. Some NHS GPs may not be familiar with its use and may be reluctant to prescribe it, partly because of the cost.
Why do Priligy prices vary?
Regulated UK online clinics often have their prices determined by the pharmacies which dispense and post out the tablets. In the UK pharmacies typically operate on high mark-ups. This model of pricing, when applied to a high cost medication like Priligy, results in prices which can be as high as £20.00 per tablet, which is the online price a very well known pharmacy charges per 60mg tablet.
Dr Fox prices are set to provide a smaller margin of profit. Dr Fox cannot control the wholesale price of Priligy tablets. These are set by Menarini. The cost of consultations with doctors, dispensing by pharmacists and recorded delivery posting need to be covered. After these costs are taken into account, Dr Fox is free to set reasonably low prices for Priligy.
Standards of service
When buying Priligy online, price is not the only consideration. Men should use only regulated sites, for reasons already explained.
Before ordering Priligy online men should be clear they understand their treatment, and know about alternative treatments. They should know what to expect from treatment, how to take it and what side-effects to expect. There should be a clear and thorough assessment process, which checks for suitability. There are some tablets which should not be taken at the same time as Priligy, without the advice of a doctor, and some medical conditions which preclude the use of Priligy.
Caution
Men who have premature ejaculation may be distressed and be suffering from relationship difficulties. They may need more medical support than can be provided at a distance from an online service. It is always best to discuss medical issues with a doctor who knows you, and you should always keep your doctor informed about treatment obtained online.