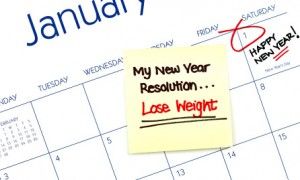 A 2010 study by the Department of Health revealed that 62.8% of adults in the UK are overweight or obese and with New Year's resolutions underway you can guarantee that losing weight will be at the top of many people's lists.
Piling on the pounds can affect everything from your health to your social life, so it shouldn't come as a surprise that it can affect your relationship too. A recent study by Duke University revealed that up to 30% of obese people looking for help to control their weight also mention problems in the bedroom, so if you need a push to get yourself into shape just read about all of these negative effects your weight could be having.
Loss of Libido
Weight gain in men can cause testosterone levels to drop, due to fatty tissue producing an enzyme that transforms testosterone into oestrogen. In particular excess belly fat appears to have a larger effect than fat in other areas of the body.
Obesity has also been linked with the hardening of arteries, which leads to reduced blood flow. This can affect both genders.
As one of the smallest arteries in the body, the artery that supplies the penis with blood is often one of the first to experience the effects. Along with causing a loss of libido, this also directly impedes performance in the bedroom by causing erectile dysfunction. High blood pressure has also been linked with abnormal penile blood flow.
In women it's the blood vessels leading to the clitoris that are affected by this reduced blood flow, which results in less response down below and a significant drop in desire.
Depression
Along with the physical effects that weight gain can have, it can also lead to psychological effects, which often linger even when the physical problem has been resolved.
Weight gain can affect self-confidence, making people feel unattractive and unappealing. These feelings particularly affect women and sometimes escalate into depression. Confidence is all about self perception and if you're busy worrying about how your body looks in bed, then you won't enjoy spending time with your partner.
But men can be affected by depression too, particularly if they lose confidence when it comes to their performance in the bedroom. Often a man will develop erectile dysfunction due to a physical problem, but repeated failures will lead to a psychological problem developing too. This can continue to inhibit performance even when the existing problem has gone.
Treatment
One good thing about weight problems is that they are usually reversible; sometimes just losing a few pounds can be all it takes for improvements to show. Consult your doctor about sustainable healthy eating and exercise regimes and stick with it.
However, if your doctor believes that your problem may have developed into something psychological it can be a good idea to trial other methods alongside losing weight. Some people may find that taking viagra tablets for a while helps to dispel their performance anxiety but counselling, cognitive behavioural therapy and sensate focus therapy can also be effective.
The first step towards curing your erectile dysfunction is to talk to your doctor, so book an appointment today and get the help you need.
Have you resolved to lose weight this year?