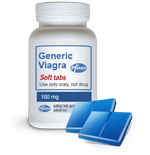 Update June 2013: Generic Viagra is now legally available in the UK from regulated services such as Dr Fox.
The pharmaceutical giant Pfizer has recently won a court battle against Israeli pharmaceutical manufacturer Teva to maintain its patent on Viagra. The original patent on the popular erectile dysfunction drug was issued in the early 1990s and was due to expire in 2012.
Had Pfizer failed in their legal bid it would have opened the floodgates for legal generic Viagra and made a serious dent in Pfizer's profits ($1 billion sales of Viagra in the US alone).
Dr fox supplies only genuine Viagra from Pfizer.
U.S. Judge Rebecca Beach Smith in federal court in Norfolk, Va., ruled Friday that Teva … proposed generic version of Viagra would infringe a Pfizer patent for the drug, and that the patent is valid and enforceable.

The 2019 patent covers the use of Viagra's active ingredient, sildenafil, to treat erectile dysfunction. An earlier patent, covering the basic compound, is due to expire next year; Teva didn't challenge that patent.

At a June 2011 trial, Teva argued that the 2019 patent was invalid and unenforceable, while Pfizer defended it.
'"We are pleased that the court recognized the validity and enforceability of our Viagra patent for the treatment of erectile dysfunction," Pfizer's general counsel, Amy Schulman, said in a press release. "Protecting the intellectual property rights of our innovative core is critical, and Friday's court decision acknowledges Teva's clear violation of our patent rights." The Friday court ruling was announced by Pfizer on Monday.
'Pfizer Wins Viagra Patent Case Against Teva', Wall Street Journal, 16 August 2011
Generic Viagra: still illegal until 2019
Pfizer knew the patent expiry date meant generic Viagra would damage their business so when the first patent was granted in the early 1990s Pfizer applied for a second patent and this was issued in 2002 (expires 2019). This is a typical tactic employed by pharmaceutical and other businesses to further protect their intellectual property.
Is Generic Viagra Fake?
Generic does not mean fake. A generic drug is a copy of an original drug. Generic drugs are legal if the original patent has run out. Generic Viagra containing genuine Sildenafil (the chemical compound that comprises Viagra) does currently exist and is manufactured by companies (in places like India) with western standards of production, however it is done illegally.
There are also many fake generic Viagra tablets in circulation, made in poor and sometimes dangerous manufacturing conditions, by criminal gangs. This generic Viagra may contain Sildenfil but may also contain many other substances some of which could be harmful.
Is Generic Viagra safe?
Because generic Viagra is illegal there is no official regulation of the manufacturing or the supply process. Fake and dangerous generic Viagra could be mixed with safe generic Viagra during the supply process because there is no official verification and regulation of that process.
The answer is no, buying generic Viagra is not safe. Always buy genuine Pfizer Viagra from regulated sources such as a GPhC registered UK pharmacies.
The Dr Fox service is fully regulated in the UK and medicines such as Viagra are dispensed and despatched from an registered pharmacy registered with the GPhC.