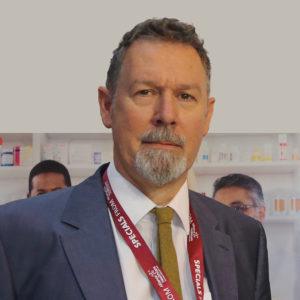 Dr Tony Steele is a former GP with 15 years experience and is a director of Index Medical Ltd.
He was born in Winchester in 1957. He spent 3 years of his childhood in Singapore. His family moved to North Devon when he was 10, where his parents still live.
After a gap year teaching in Kenya he attended medical school in Sheffield, qualifying in 1983. Dr Steele then worked in various hospitals and in general practice in Australia for 6 years, and then as the medical director of a refugee camp working for Save The Children. The refugees were Laotian, having fled their country during the Vietnam war. He returned to the UK in 1990 to undertake further hospital work and eventually settled into a GP partnership.
Dr Steele has always been interested extending ways for delivering healthcare. He helped to train refugees to carry out medical work, and developed systems in general practice to ensure patients could increasingly help themselves. It became clear to him in general practice that some medication could be provided without patients needing to be seen face-to-face. Dr Steele could see the advantages to patients in terms of their time and convenience. With this in mind he looked at existing online services and developed new methods for carrying out online consultations. He wanted to provide patients with all the information they needed to use medication safely. He wanted to keep the checking processes simple and keep the medication affordable. The result of this approach is the Dr Fox pharmacy website, which has operated since January 2010 with great success.
Dr Steele now works in business partnership with Dan Broughton, whose expertise is IT. Together, and with the help of other doctors and administrators, they are able to deliver safe and efficient medical service and can innovate quickly whilst keeping everything in-house. Dr Steele is particularly proud of the feedback from patients, which is almost universally complimentary.
Dr Steele has retired from medical practice and now lives in Bristol, often visiting Hong Kong. He has a daughter, Olivia. His interests include, travel, trekking, and Chinese antiques. His most adventurous trip was to drive across the Sahara single-handed, but he also enjoys pottering around North Devon with his family.
He is an active member of the Digital Healthcare Council and on the steering group for the Digital Clinical Excellence forum, and participates in Care Quality Commission group meetings with online healthcare providers.
In the future he would like to extend the ways medical services can be delivered by healthcare professionals.