New rules on medicine prices
Most online clinics in the UK do not show prices for prescription medicine. Why is this?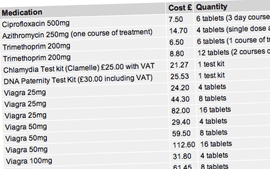 Up until a few weeks ago there was a regulation preventing online clinics displaying their prices. The regulation was in place to stop clinics promoting prescription medicine by price. The regulations have changed.
Online clinics can now display their prices. Price of the medicine can be listed next to the strength and quantities of tablets. This change in the rules is good for patients. Dr Fox prices are 25%-50% less than other clinics. Savings can run into hundreds of pounds for a single prescription item.
Dr Fox has lower costs for some medicines than the same items bought from pharmacies without a prescription.
Patients should be told the price they will pay for medicine before they spend time filling in consultation forms. Doctors are required by the General Medical Council to tell patients how much treatment will cost at the outset.
Why online clinics do not disclose their charges up front
Most online clinics are charging exorbitant prices for their services. The mark up of online clinics for prescription medicine is usually well over 100%.  See how expensive some services are for Erectile dysfunction treatments. With prices as high as this it is not surprising some websites do not show their prices.
Now the regulations have changed you can shop around. You may choose not to use the lowest cost service if it does not seem right for you but now you can take costs into account.
Choosing low cost healthcare
Many factors influence which online service a person chooses. Previous experience of using a service may influence the choice. The look of a website or the ease of its use may be important. Whether a website provides an office address and contact telephone numbers makes a difference.
UK online clinics should be registered with the Care Quality Commission. You should be able to call the office of the clinic and call the pharmacy. The pharmacy should be registered with the General Pharmaceutical Council. And, of course, the cost should be reasonable when compared with other clinics. Dr Fox scores well on all counts.
Don't pay more than you need to
Regulated UK  low cost online clinics supply medicine from registered pharmacies, which is no different from the medicine from more expensive clinics.
The money you save can be used to improve your health in other ways.