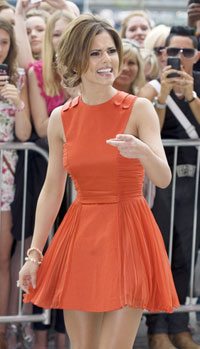 Cheryl Cole is reportedly now on the mend after an unpleasant encounter with the highly infectious disease, malaria. The Girls Aloud singer and X Factor judge contracted the potentially fatal infection while on a trip to Tanzania, and became seriously ill as a result. Cheryl is one of hundreds of British tourists returning home each year with malaria.
Malaria
How malaria is contracted
Malaria is a vector-borne disease, transmitted by the Anopheles mosquito. When an infected mosquito bites you, it passes the malaria parasite into your bloodstream. The parasite then makes its way to your liver, where it multiplies before heading back into your bloodstream and invading your red blood cells. Symptoms include fever, shivering, sweating, anaemia, aches and pains, vomiting and diarrhoea. Malaria can kill you.
Malaria profileration
Malaria is found in many parts of the world, and people should be aware of malaria 'hotspots' so they can take steps to protect themselves. Malaria is transmitted in areas of South America, Africa, and Asia. So what can travellers do if they want to avoid ending up in hospital with malaria like Cheryl Cole?
Malaria prevention
First and foremost it is important not to get bitten. Covering skin with clothing, using insect repellent and insecticides, and sleeping under a mosquito net are all important ways of avoiding mosquito bites. However, even the most vigilant of people may succumb to a mosquito bite, and one bite is all it takes to become infected with malaria. That is why it is advisable to take malaria tablets as an extra precautionary measure when visiting a malaria zone.
Malaria tablets
Start Consultation
Malaria tablets such as chloroquine and proguanil and malarone help to prevent malaria infection if you are bitten by an infected mosquito. It is imperative these tablets are taken exactly according to instructions; missing a tablet here and there may render the medication ineffective. You need to start taking malaria tablets for several days before entering a malaria zone, continuously during your stay, and for a specified period of time after your return home.
Malarial resistance
Travellers also need to be aware that the malaria parasite has become resistant to particular anti-malarial medications in some parts of the world. It is important to seek medical advice regarding which type of malaria tablets are most suitable for the country you are visiting, and follow it to the letter.
There is authoritative online advice available from the NHS Fit for Travel website regarding malaria hotspot destinations and which malaria medication is most suitable.
People also need to be aware that they are still at risk of malaria infection for up to one year after leaving a malarial area, and they must seek medical advice if they become ill with flu-like symptoms during this time.
Cheryl Cole's malaria and recovery
Like many celebrities before her, Cheryl Cole's recent illness has drawn public attention to a dangerous, life-threatening disease. She has required several days of hospitalisation, her recovery will last many weeks and she has had to cancel or curtail work commitments to her role as an X Factor judge and to her singing career.
While anti-malaria drugs do not guarantee total protection against malaria infection, they do help to prevent it. When entering a malaria hotspot, take steps to prevent mosquito bites and arm yourself with malaria tablets. They may even save your life.