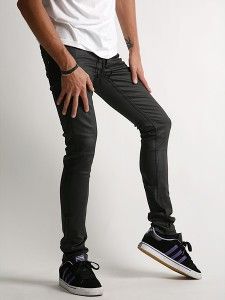 It has been found by a recent British survey of 2000 men that wearing tight 'skinny' jeans could lead to a whole host of health issues, from twisted testicles to weakness in the bladder, urinary tract infections and some long term health-related consequences.
TENA Men, which carried out the study, found that even though skinny jeans are currently really popular among celebrities and the population in general, one tenth of the men who wore them reported some sort of adverse consequences of their fashion choice.
One of the reasons skinny jeans are likely to be causing problems is because they are tight around the groin, which can eventually lead to conditions such as urinary tract infections. It can also lead to bladder weakness and issues such as fungal infections and a low sperm count, according to a TENA campaign spokesperson.
The advice is that men should make sure their trousers give them enough room in the groin area and that they feel comfortable when they are wearing them. According to the survey, half of men had some sort of discomfort as a result of wearing skinny jeans and over a quarter had bladder problems.
Also, around 20% of those surveyed had twisted a testicle as a result. 40% of the men said they would rather look stylish than be comfortable, with a significant percentage of those who wore skinny jeans saying they did so regularly because they wanted to look good. Plus, around 33% didn't know their correct size, even though around 1 in 7 wore skinny jeans often.
A brand manager for TENA Men said that it's important men do not compromise their health, especially as 1 in 9 men in the UK already experience some form of bladder weakness – and regularly wearing fashionable yet constricting skinny jeans could well end up making the problem worse.