Migraine relief
Treatments for the relief of migraine headaches - Sumatriptan tablets and Imigran spray available to buy online from Dr Fox.
Read medical information and answer medical questions to buy treatment online.
Selecting treatment
All medicine supplied is UK licensed.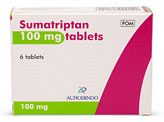 Sumatriptan tablets
(50mg and 100mg)
6-12 tablets from £9.80
Buy treatment
Imigran Nasal Spray
(10mg and 20mg)
2-6 doses from £16.40
Buy treatment
Prices
| Migraine treatment | Quantity | Cost |
| --- | --- | --- |
| Sumatriptan 50mg tablets | 6 tablets | £9.80 |
| Sumatriptan 50mg tablets | 12 tablets | £15.50 |
| Sumatriptan 100mg tablets | 6 tablets | £10.90 |
| Sumatriptan 100mg tablets | 12 tablets | £17.80 |
| Standard Imigran nasal spray (sumatriptan) | 2 x 10mg sprays | £16.40 |
| High dose Imigran nasal spray (sumatriptan) | 2 x 20mg sprays | £16.40 |
| High dose Imigran nasal spray (sumatriptan) | 6 x 20mg sprays | £43.40 |

Price match guarantee
Prescription issued online - small prescription fee per order.
Compare prices: Dr Fox prices are 25%-50% lower cost than other online clinics.
Prescription fees
Dr Fox supplies medicine on prescription and charges a small prescription fee based on the order value of each prescription.
Prescriptions are issued by our doctors online and sent electronically to our pharmacy.
| Order value | Prescription fee |
| --- | --- |
| up to £10 | £1.00 |
| up to £20 | £2.00 |
| up to £40 | £3.00 |
| over £40 | £4.00 |
If you have your own private or NHS paper prescription please post to our pharmacy (details).
Dr Fox prices are 25%–50% lower than other UK online clinics.
Delivery charges
UK delivery only: £2.90 per consultation via Royal Mail 24 Signed For (1-3 working days with tracking).
Parcel forwarding services are not permitted. Use only UK home or work delivery address.
Returns and refunds - unwanted items can be returned within 14 working days for a full refund.
Medical information
Written and reviewed by a team of doctors. Dr Fox is regulated by the CQC & GPhC.
Symptoms of migraines
Imigran is for people who have been diagnosed with migraine, not for other sorts of headaches. Migraine headaches typically are throbbing and severe, and are associated with nausea, vomiting, and photophobia (aversion to strong light). They usually are localised to one side of the head, but not always, and are sometime preceded by symptoms such as flashing lights or other visual or sensory disturbance. They usually last a few hours and then resolve, with no symptoms in between. There are many variants. See NHS migraine page for further details.
Migraine headaches are severe, usually at the front of the head and usually throbbing. Migraine is common affecting about 1 in 4 women and 1 in 12 men in the UK.
With migraine there is often:
Nausea, queasiness and sometimes vomiting
Inability to carry on normal daily activities (people suffering a migraine often want to lie in a darkened room)
Heightened sensitivity: intolerance of bright light, noise, and strong smells
Migraines can last from a few hours up to 3 days. After migraine headaches have gone, tiredness is common and can last several days.
It is unusual for migraine to start after the age of 40. Some women get migraine around the time of their periods.
Migraine attacks can be triggered by stress, tiredness, and some medication. In some cases trigger foods can be identified.
Classic migraine
A quarter of people who get migraine have a warning or aura before their headaches.
This is most often a visual disturbance such as seeing zigzag lines, or blurring, or having a blind spot. Other less common auras include tingling sensations, problems with co-ordination and concentration, speech difficulty and, rarely, blackouts.
'Triptans' – Sumatriptan (Imigran)
Sumatriptan (Imigran) works by reversing the expansion of blood vessels around the brain present in migraine. The most widely used 'triptan' is Imigran, which is a brand name for the drug Sumatriptan.
Dr Fox supplies generic Sumatriptan tablets rather than the branded form of this drug, Imigran. The cost is lower. The active ingredient is the same. There is no difference in effectiveness. We also supply branded Sumatriptan Imigran nasal sprays.
Dr Fox supplies sumatriptan and Imigran nasal sprays on prescription – our doctors will issue the prescription online direct to our pharmacy.
Sumatriptan (Imigran) usually starts to work after 30 minutes. It does not work for everyone. Where it does not work alternative 'triptans' are worth trying.
These alternatives included almotriptan (Almogran), eletriptan (Relpax), frovatriptan (Migard), naratriptan (Naramig), rizatriptan (Maxalt) and zolmitriptan (Zomig).
Other treatments of acute migraine
Rest, and simple painkillers containing paracetamol, anti-inflammatory drugs and aspirin are the most frequent remedies. Some people find anti-inflammatory tablets, such as ibuprofen, are effective on their own without needing to use a triptan medicine. Anti-sickness tablets if taken early can also help.
If painkillers are used frequently they can actually cause headaches. Anti-inflammatory painkillers are associated with acid indigestion and even intestinal bleeding.
People experiencing frequent migraines may benefit from preventative treatments.
Cautions
Sumatriptan has been used by millions of people throughout the world for decades and is generally considered a safe drug.
Sumatriptan (Imigran) can cause a temporary narrowing of blood vessels. People who have had strokes or mini-strokes, have problems with poor circulation, or a history of angina (heart pain on exertion) or a have had heart attacks should not take sumatriptan.
Even in people who have never had circulation problems sumatriptan can in rare situations trigger serious heart problems. The following groups should check with their GP before taking sumatriptan.
Heavy smokers
Men over 40
Women after the menopause
In some rare serious cases migraine headaches are associated with paralysis, loss of vision and loss of speech. Sumatriptan is not to be used in these cases.
Side effects of sumatriptan (Imigran)
Pain, heaviness, pressure or tightness in the chest, throat or other parts of the body, or unusual sensations, including numbness, tingling and warmth or cold. These effects may be intense but generally pass quickly. Very rarely triptan medicines can trigger heart attacks, and those experiencing chest pain should seek urgent medical advice.
Other common side effects include:
Feeling sick (nausea) or being sick (vomiting), although this may be due to the migraine itself
Tiredness or drowsiness
Dizziness, feeling weak, or getting hot flushes
Temporary increase in blood pressure
Shortness of breath
For a full list of side effects and cautions see the Imigran Patient Information leaflet.
Preparations of Sumatriptan
Sumatriptan is available as tablets and as a nasal spray.
Some people find the nasal spray works more quickly and is easier to take when they are feeling nauseated (sick).
Dose for tablets and nasal spray
Tablets come in 50mg and 100mg strength. Take 50mg (some patients may require 100mg) at onset of symptoms, dose may be repeated after at least 2 hours if migraine symptoms return. Maximum dose is 300mg in 24 hours.
Nasal spray come in 10 and 20mg strength. Use 1-2 sprays (10-20mg) into one nostril at onset of symptoms, dose may be repeated once after at least 2 hours if migraine symptoms come back. Maximum dose in 24 hours is 40mg.
Sumatriptan should not be taken with other 'triptans' or with medication containing ergotamine.
When to see a GP
Before self medicating for headaches it is best to see a GP for a diagnosis.
When headaches start for the first time over the age of 40.
When headaches are getting more frequent and lasting longer.
If headaches are worsening after taking triptans, such as Imigran, for over 10 days or other pain killers for over 15 days. Your doctor may recommend stopping treatment for a month.
When headaches are different from before; new symptoms.
People who experience two or more attacks a month which cause disability or who are not responding to treatment should also consult their regular doctors.
Buy treatment
Dr Fox supplies migraine treatment on prescription - you are required to answer a short medical questionnaire before your order can be completed.

Authored 18 February 2010 by Dr Tony Steele
Last updated 23 March 2021
questions
Choose
order
Answer medical questions to order
(migraine)
---
The order process
Answer short medical questionnaire
Choose medication, register, and pay
Doctor issues prescription online
Pharmacy team post medication direct
---
Recent reviews
"Excellent service very quick and easy"07 April 2021 – Anonymous
"Value for money"07 April 2021 – J K. from E
"Great service great product dr fox bang on everytime...."07 April 2021 – Anonymous
"Consistently good service."07 April 2021 – Stiofan O., Belfast
"Very smooth online process. I didn't have to contact customer services directly so no idea how good they are in that department but in everything else I was impressed."07 April 2021 – Anonymous
"Very quick delivery"07 April 2021 – Anonymous
"Whole experience went smoothly. Would definitely recommend."07 April 2021 – Anonymous
"Good and fast service"07 April 2021 – Anonymous
"Fast order processing and delivery"07 April 2021 – Anonymous
"Great product and service"07 April 2021 – Anonymous
"Service very good"07 April 2021 – Anonymous